Picture
Sound
Extras
Paul W.S. Anderson's Event Horizon was neither a critical nor commercial success upon its theatrical release in 1997 but found popularity and new life, first on DVD and then on Blu-ray with multiple releases over the years. The film is now enjoying a 25th anniversary Steelbook release on 4K Ultra HD Blu-ray. Set in 2047, the story follows a crew of astronauts sent on a mission to rescue a spaceship, the Event Horizon, seven years after it goes missing while on a top-secret mission to test a gravity drive that would give it the ability to travel faster than the speed of light.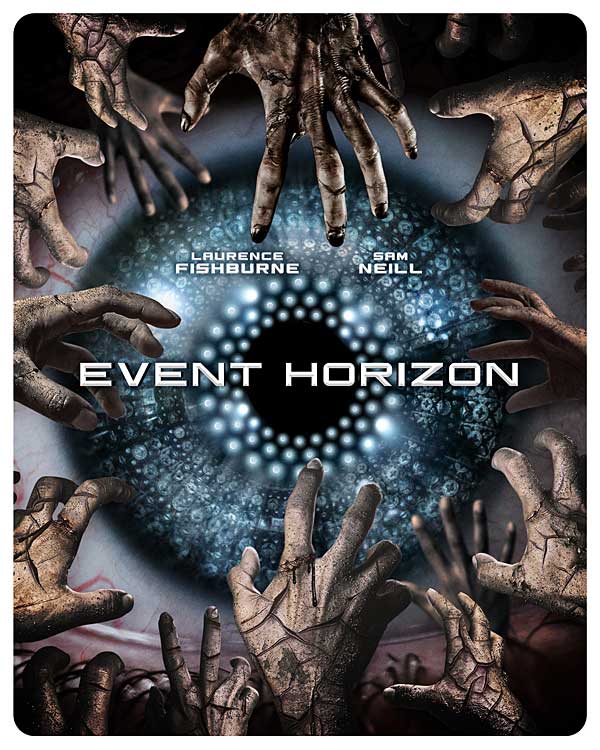 The crew includes Dr. Weir (Sam Neill), designer of the ship's gravity drive, their leader, Captain Miller (Laurence Fishburne), and features strong performances by Kathleen Quinlan as Peters, a medical technician, and Joely Richardson as officer Starck. The complex set design is impressive and the premise of a gravity drive that folds both space and time, while subjecting the crew to malevolent forces with horrifying consequences, is intriguing. It's a bold story and the film has a striking visual style, but relentless violence and gore ultimately do more to shock than provide a compelling narrative.
The picture quality is eye-catching. Lighting appears natural with dark shadows that reveal excellent gradation, from the deepest blacks to bright areas in the ship's interior, and outstanding HDR color grading allows the cool green and blue lighting that bathes many scenes to take on an organic quality, giving the possessed ship an eerie presence. Though some grain is evident from the beginning of the opening credits, it is never distracting. The presentation strikes a good balance between sharpness and a pleasing film-like appearance, allowing a good amount of detail to come through while providing smooth dimensionality to the gyroscopic movement of the gravity drive with its central sphere and concentric magnetic rings.
Audio is presented in Dolby TrueHD 5.1 and is quite dynamic, but sounds dated with directional effects that are discrete rather than smoothly integrated within a coherent soundfield. Dialogue is always intelligible but a bit flat sounding and static overall, and sound effects meant to startle are at times too loud and strident. Extras provided on the accompanying Blu-ray disc are not new and include an audio commentary with Anderson and producer Jeremy Bolt, a couple of making-of documentaries, extended and deleted scenes, storyboards from an un-filmed scene, conceptual artwork, trailers, and a digital copy code.
Ultra HD Blu-ray
Studio: Paramount, 1997
Aspect Ratio: 2.35:1
HDR format: Dolby Vision and HDR10
Audio Format: Dolby TrueHD 5.1
Length: 95 mins.
Director: Paul W.S. Anderson
Starring: Laurence Fishburne, Sam Neill, Kathleen Quinlan, Joely Richardson