Picture
Sound
Extras
When you're all-in with the Marvel Cinematic Universe, you take the good with the bad, and Jack Kirby's lesser-known 1970s comic book has yielded the latter. With Eternals, we are introduced to a diverse team of never-aging otherworldly protectors, each with a different superpower, who are tasked with defending humanity from some nasty creatures. These heroes have been here for millennia, blending into various civilizations throughout history, and their work is done…or is it? The story picks up after the Avengers: Endgame snap. Some mysterious events are unfolding as an unintended consequence, so they need to get the band back together for their biggest challenge yet. Ten members are a lot of characters to meet, and it results in a two-and-a-half-hour-plus runtime that can feel like, well, an eternity. None of these folks are particularly charismatic, and the action sequences are rather repetitive—mostly CGI beasties being punched or zapped into submission, with a few variations here and there.
The bigger your TV, the better, as the scale of the movie is tremendous, particularly the mighty Celestials, next to which a five- or six-foot person appears as a mere speck. The 2.39:1, native 4K image has a welcome subtlety and stability, and it does wonders for the beauty of the cinematography and the production design. Interesting lighting choices give Eternals a distinctive look, such as daylight under the canopy of trees in the Amazon rainforest, with some effective HDR10 highlights in the glowing eyes of an enemy. Shadow detail is decent on Ultra HD Blu-ray and demonstrably superior to the crushed blacks on the included regular HD disc. It's worth noting that the Disney+ streaming version offers Dolby Vision and an "IMAX Enhanced" option that shifts the aspect ratio to a roomier 1.90:1 for select scenes.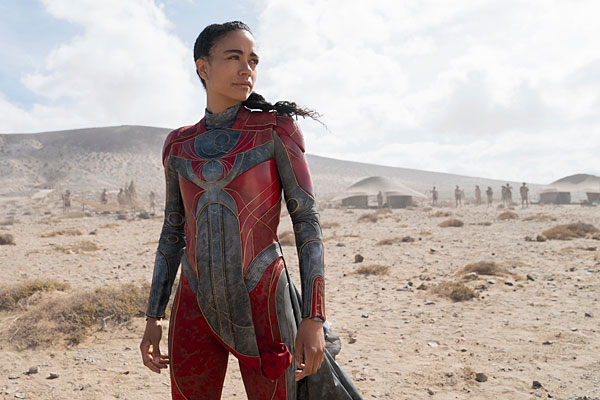 The Dolby Atmos soundtrack offers some enjoyable moments supporting extreme weather and sharp directionality for the speedster of the group. LFE is somewhat timid, but it combines well with surround effects during the team's frequent energy blasts. The booming, inescapable voice of Arishem, the Prime Celestial, also adds a touch of menace.
No extras are provided on the 4K disc, while the HD platter serves up deleted scenes, bloopers, and a couple of typical Marvel featurettes in addition to an audio commentary from director/co-writer Chloé Zhao (Oscar winner for Nomadland) and her VFX supervisors. It's one of those seemingly free-form tracks that covers a bit of everything and not just the topics we'd expect.
Ultra HD Blu-ray
Studio: Walt Disney, 2021
Aspect Ratio: 2.39:1
HDR Format: HDR10
Audio Format: Dolby Atmos with TrueHD 7.1 core
Length: 157 mins.
Director: Chloé Zhao
Starring: Gemma Chan, Richard Madden, Angelina Jolie, Salma Hayek, Kumail Nanjiani, Lia McHugh