Picture
Sound
Extras
As young Alma and Pedro Madrigal flee from war in their native Colombia, Pedro is killed. Alma clutches their children as a magic candle appears, smiting Pedro's killers and promising endless magical gifts for the Madrigal family—as long as the candle burns. Alma and her children settle in a small village where the candle creates an enchanted Casita (home) for them.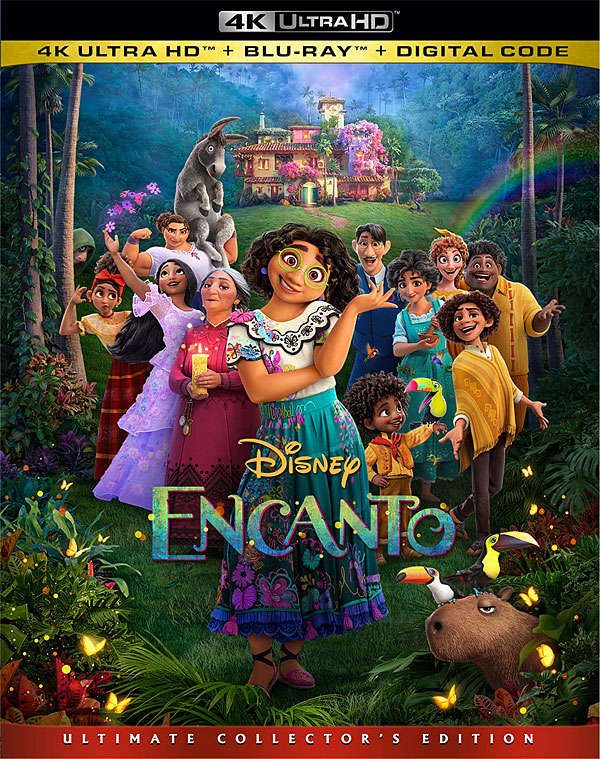 Members of the gradually growing family are each gifted with those promised powers when the right time comes. Many of the powers are odd to say the least, but that doesn't make young Mirabel feel any better. She's never received the gift of a power and feels let down by the Casita, her family, and Abuela (grandmother) Alma. But the story ultimately turns to Mirabel's journey and, perhaps, to her real gift—to save the family, the house, and her Uncle Bruno, Alma's black sheep son who disappeared years ago.
There's no villain here, which could have enriched the film's slender plot, but Encanto makes up for this with dazzling animation and catchy songs penned by Lin-Manuel Miranda (best known as the composer of the Broadway musical Hamilton). Combined with the brilliant visuals, these are the best musical numbers to enhance a Disney film since The Lion King (the original, not the best-forgotten CGI remake). Encanto's animation and music alone should make repeat viewings irresistible.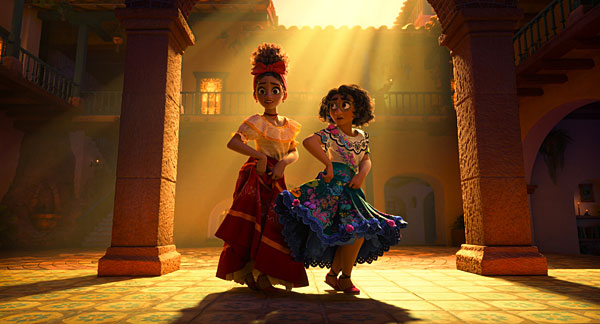 The disc's 4K/HDR10 video could hardly look better. HDR enlivens every scene, making the color palette pop in a way that could only be fully appreciated in an animated feature. This much rich color in a live action film would look fake, but here it's perfectly integrated with the visuals and story. Viewed on an OLED TV, the black levels were also beyond criticism.
Encanto's audio mix is clean and potent, but like many recent Disney releases it has a far lower level than earlier films from the Mouse House. The dynamic range is adequate, but also a bit tame even when the level is turned up by 5-6dB for a more engaging experience.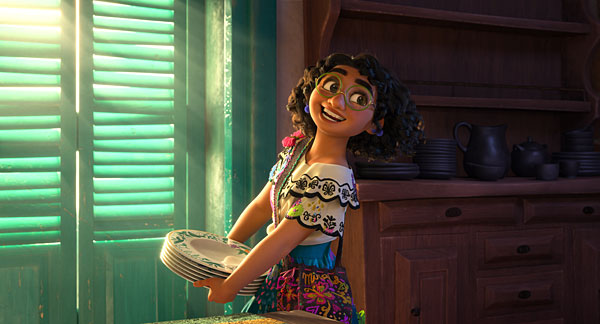 The disc's making-of features cover the production team's research into Colombia and its music, the design of the "living" Casita so important to the story, outtakes, and deleted scenes. There's also Far from the Tree, an animated short that played with the film during its theatrical run. But the disc feature most likely to see frequent use is a dedicated menu that lets you go directly to any of the songs. As with all the extras, however, this is only offered on the included regular Blu-ray disc version of the movie.
Studio: Disney, 2021
Aspect Ratio: 1.85:1
HDR Format: HDR10
Audio Format: Dolby Atmos
Length: 109 mins.
Director: Byron Howard, Jared Bush, Charise Castro Smith
Starring (voice): Stephanie Beatriz, María Cecilia Botero, John Leguizamo