PRICE $2,320
AT A GLANCE

Plus

Screen fully retracts when not in use
IR and RF remote controls
Very good value

Minus

Slight slackness at screen's bottom edges when extended
THE VERDICT

The Elite Screens Kestrel is a well-made, reasonably-priced, and easy-to-set-up option for those who want their projection screen to disappear when it's not in use.
Plenty of custom solutions have been developed to house ultra-short throw (UST) projectors, a category designed to beam bright, living-room friendly images from a position just a few inches away from the bottom edge of the projection screen. The main ones are furniture-grade cabinets with an interior compartment for stowing away the projector so it remains out of sight both in use and when powered off. Screens designed for UST projectors, on the other hand, are for the most part fixed-frame designs that occupy a large amount of wall area, especially the 120-inch diagonal format commonly used for UST setups. Given that such screens typically have a dark gray surface, anyone using them needs to contend with having the equivalent of a big black hole (okay, a dark gray rectangle) on their wall when the projector is turned off.
The Kestrel Tab-Tension 2 CLR 3 ($2,320-$2,905) is Elite Screens' answer to the UST black hole dilemma. A tab-tensioned rollable material housed in a motorized case, the Kestrel rises from the floor at the flick of a switch to full height for movie or TV viewing, and then retracts back into place when you're done. It's a simple, elegant solution for UST projector owners seeking a screen that disappears when it's not in use—and one that doesn't require any installation prowess beyond positioning the case on the floor and plugging it in.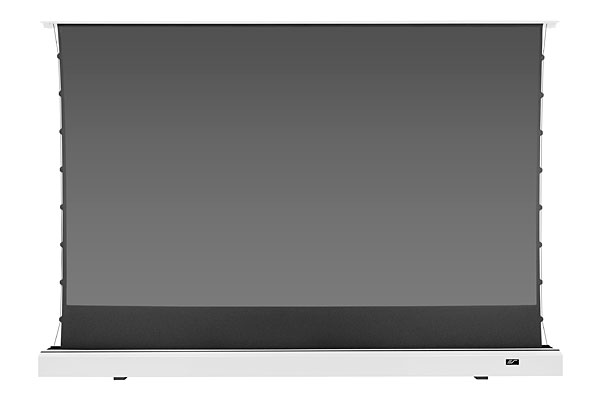 Elite Screens shipped me a 101-inch version of the Kestrel in a white housing (there's also a 121-inch screen size and a black case option). Both sizes are only available in a 16:9 aspect ratio. A cardboard shipping container that arrived at my doorstep containing the Kestrel was a bit over 9-feet wide, making getting it into the house a two-person job, but once inside, I was able to unbox and position the screen's 97 x 4.5 x 6-inch case on my own. The case is constructed from sturdy aluminum and features rubber feet for installation on a wood floor. In operation, an equally sturdy cross-rising spring scissor mechanism emerges from within to raise the screen up to the desired height, and then folds back on itself when retracting. An aluminum panel sits on top of the mechanism and serves as a "lid" when the case is fully closed up.
There are multiple ways to operate the Kestrel once it's plugged into a power outlet. The most basic is a switch located on the left side of the case that lets you manually raise, lower, and stop the screen. Two remote handsets with similar functions provide RF (radio frequency) and IR (infrared) wireless control, respectively. Another option is a wireless RF trigger dongle that plugs into your projector's USB port and sends out commands to raise and lower the Kestrel synched with your projector's power on/off cycle, though I was unable to get this to work with the Epson LS-500 model I used for my evaluation.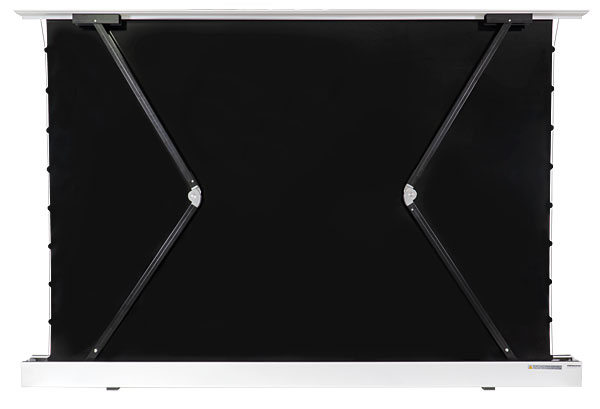 The CLR 3 (ceiling light-rejecting) screen material used by the Kestrel has a gain of 0.8 and is spec'd for a 170-degree viewing angle. Like other materials designed specifically for use with UST models, it features an optical coating that is aligned to filter out light coming from above the screen while reflecting light coming from a projector positioned below (this accounts for the screen's dark gray appearance as noted above). Black backing on the back surface, meanwhile, blocks out any light coming from behind the screen when it's extended. While the CLR 3 does an impressive job of filtering out overhead light, it doesn't have the same effect on light hitting the screen from the left and right sides—something that regular ambient light-rejecting (ALR) screens are designed to do. For this reason, to get best performance out of your setup, you'll need to make sure windows in your viewing room can be adequately blacked out, and that any room lamps to the sides of the screen are switched off or dimmed.