Picture
Sound
Extras
Frank Herbert's Dune had turned into a sort of creative graveyard for filmmakers over the years, causing the beloved sci-fi novel to be labeled unadaptable. The first attempt was made by Alejandro Jodorowsky, who started his adaptation in 1974, working with artists including H. R. Giger, Chris Foss, and Jean "Moebius" Giraud for set and character designs, resulting in over 3,000 storyboard sketches. That version was never made since Jodorowsky would not edit his film down to a palatable Hollywood runtime of two hours or less, instead preferring a ten- to fourteen-hour runtime. David Lynch filmed an adaptation in 1984, but interference from producers Raffaella De Laurentiis and her towering father Dino would eventually choke off the funding to the increasingly expensive production, which led to the film's incomplete, B-grade feel. Even so, Lynch's version has some impressive production value and there's a lot of fun to be had, making it a cult favorite.
Now, Denis Villeneuve comes to this new adaptation riding high off the success of his last outing, Blade Runner 2049, and his ability to resurrect that franchise decades later suggested he might be the person to finally do right by Dune. In this first half of what is to be a two-parter, Villeneuve sets the tone by borrowing from the artwork Jodorowsky left behind, plus some of the visual elements of Lynch's film. He sets the drama in a gorgeous world of glistening spaceships and vast landscapes, all of it accompanied by a moody, often percussive score by Hans Zimmer. Part one tells the story of Paul Atreides (Timothée Chalamet), the young son of a noble family whose father, Duke Leto Atreides (Oscar Isaac), is entrusted with overseeing the planet Arrakis, where the galaxy's most precious substance, the spice melange, is mined. A series of events, palace intrigue, and maneuvering follow as others vie for control over the spice. This is the Dune fans have been waiting for.
As you watch Dune, you might think it has a very particular look, and that's likely because it was shot on the Arri Alexa LF and LF Mini in 4.5K digital video, transferred to 35mm film, then transferred back to a 4K digital intermediate for post-processing. It arrives on Ultra HD Blu-ray in a 2.39:1 aspect ratio with Dolby Vision HDR. With a MaxCLL (Maximum Content Light Level) of 787 nits and a MaxFALL (Maximum Frame Average Light Level) of 239 nits, this is not the brightest HDR release you will ever see, but the transfer is so gorgeous and the contrast so solid that you won't miss the lumens. The intermediate step of transferring to 35mm gives the image an organic, filmic quality while retaining a pristine, crisp, digital look without artificial grain. Excellent specular highlights invigorate the appearance of sunlight coming through rooms, the glow from gadgets, and the glistening surface of swords. The best reference points come in chapters 10-11 via explosions, flashing forcefields, and the generally incredible play of light and shadow.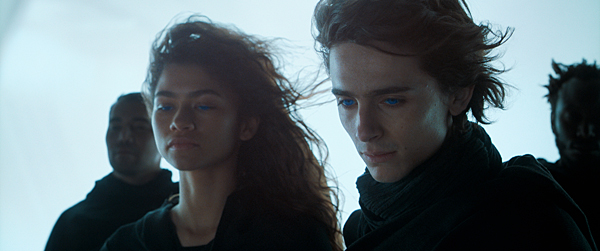 The Dolby Atmos (Dolby TrueHD 7.1 compatible) soundtrack is a reference mix that hits from the opening with Zimmer's percussive score surrounding you in various channels and punching hard in the lower frequencies. Height effects are evident in "The Voice," a sort of otherworldly voice-of-God, and the Ornithopters that fly overhead. There are some spots where dialogue level can drop a little below that of the sound effects, but this is an artistic choice (kind of like what Christopher Nolan is fond of doing throughout the entirety of his films).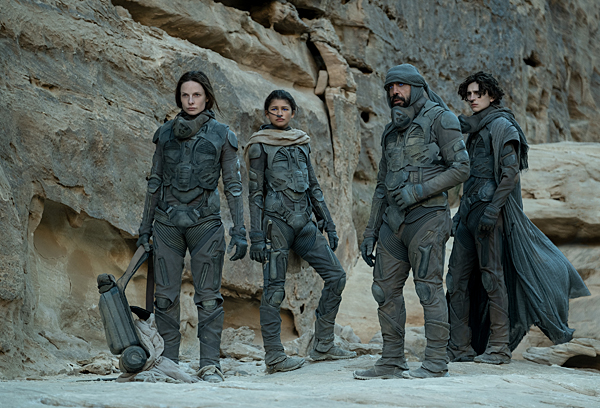 Warner Bros. provides an array of behind-the-scenes featurettes that include numerous interviews and on-set footage. Among the highlights are the four-part "Filmbooks" on the main houses in the film and Inside Dune, which covers the spice harvester, training, and the Sardaukur battle scene. A Movies Anywhere Digital Code and a regular HD Blu-ray with the feature film and bonus features are supplied.
Ultra HD Blu-ray
Studio: Warner Bros., 2021
Aspect Ratio: 2.39:1
HDR Format: Dolby Vision, HDR10
Audio Format: Dolby Atmos with TrueHD 7.1 core
Length: 155 Mins.
Director: Denis Villeneuve
Starring: Timothée Chalamet, Rebecca Ferguson, Zendaya, Oscar Isaac, Jason Momoa, Stellan Skarsgård