PRICE $2,400
AT A GLANCE

Plus

Stupendous bass without an external subwoofer
Outstanding timbre and dynamics
Easy to use via HDMI-CEC or Devialet app

Minus

No remote learning for optical connections
No voice integration
No DTS decoding
THE VERDICT

You'll pay for the privilege, but Devialet's Dione lives up to the full promise of an audiophile-quality, all-in-one soundbar.
From time to time I get to review an audio product that is so thoroughly engineered, so cutting-edge and so high performing that it leaves me in awe. And let's be clear, after three decades of doing this, I'm not easily impressed. But I'll tell you here that the subject of this review, the $2,400 Devialet Dione, is hands-down the best all-in-one soundbar I have ever heard, and undoubtedly one of the two best soundbars currently available. We'll get to that later, but for now, let's take a closer look.
If you're familiar with Paris-based Devialet you've probably seen their Phantom, a futuristic wireless speaker that puts out more volume and bass than anything its size. (If not, pay a quick visit to devialet.com.) The company is known for unique style and innovation, holding over 200 patents on technologies that squeeze audiophile sound out of compact, easy-to-use lifestyle products.
It's not surprising, then, that when they set out to create a subwoofer-less soundbar, they threw in everything, including the kitchen sink. Technically, the Dione is a discrete 5.1.2-channel bar with 17 drivers, including upfiring units for Dolby Atmos front height channels. It has an imposing but friendly industrial design with dimensions of 47 x 3.5 x 6.5 inches (WHD)—slim enough to fit easily below the screen of a table-mounted TV, but unusually deep for reasons that will become apparent.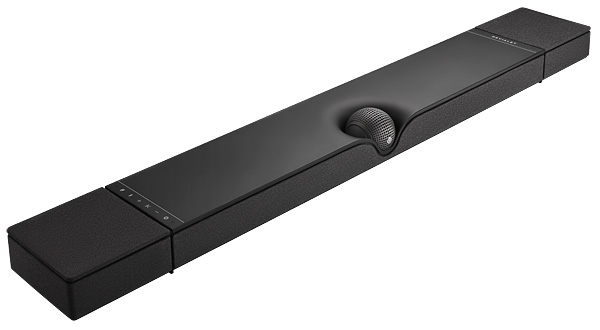 The most obvious feature is the orb-like pod that houses the center-channel speaker; Devialet actually calls it the Orb. This would normally prevent wall-mounting without the bar protruding awkwardly from the wall since those height and center channel drivers need to be properly positioned. But the Orb can be physically rotated to face forward when the bar is reoriented for wall-mounting, and an internal gyroscope detects the position and reassigns the other drivers as needed for the new configuration.
About those 17 drivers: nine are 1.6-inch full-range aluminum domes and eight are 5.3-inch, high-excursion racetrack (oval) woofers. With the bar resting flat, you have a left- and right-channel driver firing forward from either endcap, each of which works in conjunction with a side-firing surround driver to expand the soundstage and a pair of upfiring height drivers. The Orb houses the same single aluminum-dome 1.6-inch driver plus a pair of small passive radiators.
The eight woofers that make the Dione a true standalone soundbar are in front/rear-firing pairs placed in vibration-cancelling opposition on either side of the Orb (four woofers per side). Each foursome enjoys its own sealed compartment and projects bass from both the front and rear baffles. As an aside, I recently tested the B&W Panorama 3, a less-pricey ($999) attempt at a subwoofer-less Atmos bar. It was impressive, but lacked bass below 60Hz, despite having two 4-inch woofers and a large cabinet cavity to reinforce the bottom end (which set nicknacks on my credenza in motion when I played bass-heavy soundtracks). By comparison, the Dione's woofers delivered all of their energy out into the room without a hint of shake, rattle, or roll.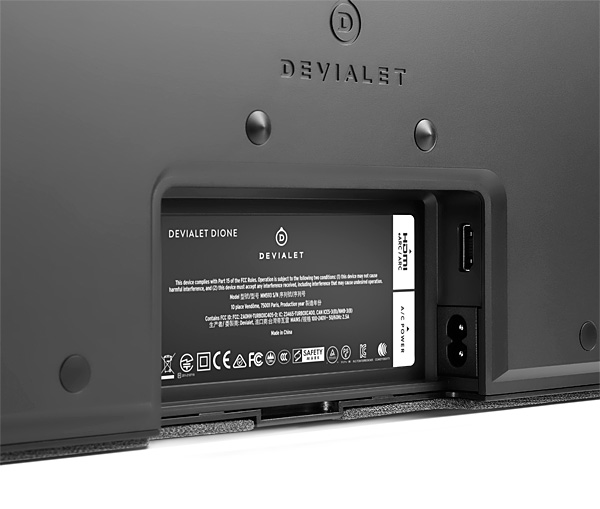 And, wow, did they deliver. The bar is rated down to 24Hz, and test tones revealed bass at that frequency was barely 6 or 7dB down from where it measured at 100Hz. There were a couple of bumps and gullies in my room—a little spike around 60Hz and a little dip at 40Hz. But even when fed a 20Hz tone, the Dione was still pumping clearly audible bass into the room. I was astonished.
The 950 watts of amplification and processing is provided in part by a custom chip combining several patented technologies. ADH (Analog Digital Hybrid) is said to take efficient class D amplification and pass it through a class A-like stage designed to "restore and correct" the signal. SAM (Speaker Active Matching) provides signal monitoring and limiting to eek max performance from the drivers and prevent distortion. Magic Wire describes an unconventionally short signal path between the onboard DACs and amplifier intended to help keep the signal clean.
ADE, or Advanced Dimensional Experience, is beamforming technology designed to project well-defined virtual speakers or sound objects into the room. The Dione is further enhanced by AVL (Adaptive Volume Level), an interesting take on dynamic equalization. AVL monitors the signal and mitigates undesirably wide level differences among individual soundtrack elements, the kind that cause excessive riding of the volume control or a loss of dialogue intelligibility when sound effects are fighting with the center channel. The bar still tracks subtle dynamic build and can bust out when needed on loud peaks, but the listening experience is noticeably enhanced with clearer dialogue, improved etching of individual effects, and smooth-but-not-excessive volume swings.
Devialet provides a few simple connections in a recessed area on the bottom of the soundbar (or back if it's going to be mounted on the wall). There's a single eARC-equipped HDMI port (which is also required on your TV to get a lossless Atmos signal into the bar), an optical input for non-HDMI sets, and an RJ45 network port for use in lieu of Wi-Fi. Unlike with some soundbars, you can connect a second source to the optical input and select it as a separate option from the HDMI port; it's not either/or. In addition, the Dione supports wireless connectivity via Apple AirPlay 2, Bluetooth, and Spotify Connect, and will recognize a UPnP (Universal Plug and Play) server on the network.
Putting aside its eyeball protrusion, the Dione's cabinet is a perfect cuboid—like the 2001: A Space Odyssey monolith dropped on its side. An inner cage made of anodized aluminum provides rigidity and contributes to the bar's solid feel and weight, and all of the drivers are concealed by dark gray fabric grilles on the front and sides and top of each endcap. The rest of the top is a composite plastic panel that makes a solid thud when you whack it; there's a small strip of touch buttons on the right side for volume up/down, play/pause, input selection, Bluetooth pairing, and turning off the four integrated microphones used for system calibration (more on that shortly).
Of course, you'll rarely use those onboard controls since the Dione is designed to wake up and automatically track volume commands from the remote for your TV or set-top-box (courtesy of the HDMI-CEC protocol, which enables multiple devices to be controlled from one remote). Unfortunately, you lose this convenience if your TV lacks an HDMI port and you have to use the optical connection. You can, however, control the Dione using the versatile Devialet iOS/Android app or the optional Devialet Remote, a stylish tabletop controller that costs $200.
Additional control and setup functions are also handled through the app, which I found easy to navigate and reliable in day-to-day use. Along with volume adjustments, it helpfully confirms signal type: Dolby Atmos, multichannel or stereo Dolby Digital, or LPCM (there's no onboard DTS processing). The app also allows you to choose sound-mode options, which in Goldilocks fashion are neither too plentiful nor missing anything you'll want. Movie mode upmixes stereo and non-Atmos multichannel music or soundtracks to 5.1.2. Music is a two-channel native stereo mode that disables the height drivers. Voice adds crispness for news and podcasts, though I never felt the need to use it because the Movie mode was so effective at isolating dialogue. If you select one of the wireless music inputs, like AirPlay or Bluetooth, the sound mode options become Music, Voice, or Spatial, the latter of which applies a different algorithm than Movie to upmix to 5.1.2 (more on that later).