A successful trade show has a special energy to it. You get a buzz out of the traffic, the constant hum, and the ever-present chance of bumping into someone you know to share anecdotes. In that sense, CEDIA 2022 in Dallas ranks as a huge success, a return to form for a show that experienced a couple of rough years due to COVID.
While I've covered some booth visits with standalone articles, and highlighted products with Editor's Pick awards, ultimately CEDIA is too big for any one person to cover in a timely manner. When I'm on the show floor, it's a tough call: Either visit fewer booths and put more time aside to write or push to get as many booth visits under my belt, with the goal of gaining as much insight as possible, but with no hope of writing it all up.
Of course, I chose the latter. But here's the deal, I'm a photographer at heart, so what I did was cover as much ground as I could with my camera. Here is a visual trip through the CEDIA 2022 that I saw.
Sony Starts the Show
Sony's massive booth contained three separate screening rooms and had its crystal LED screen on the outside of the structure. Sony's commitment to the custom install channel was on full display at CEDIA 2022 with a strong focus on projection.

It all kicked off with the AV press gathered pre-show on the first day.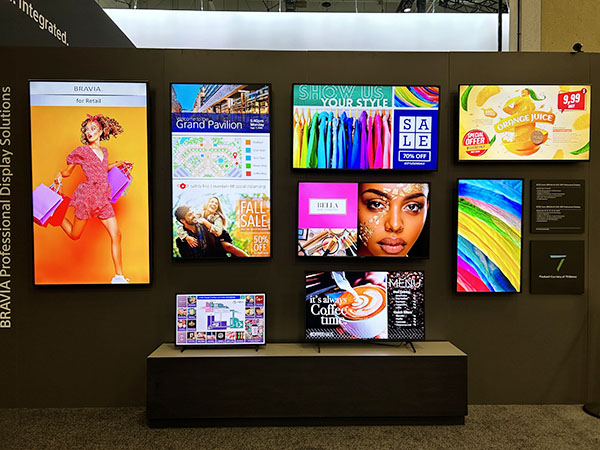 Sony showed off commercial display solutions, not just consumer TVs and projectors. The world of custom installation encompasses both.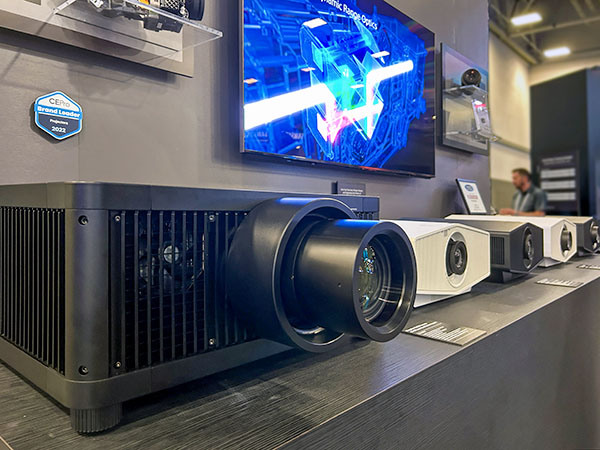 Here's a lineup of Sony's native 4K SXRD laser projectors. There are no more bulb-based projectors in it. The 10,000-lumen VPL-GTZ380 is on the left, it'll run you $80,000 but wow it looks amazing.
Swimming in a Sea of Soundbars, Speakers and Subwoofers
There are far too many speakers and subwoofers at this show to see and hear them all. Even if you dedicated all three days to just that task, it would take a herculean effort.
The show's selection of speakers ran the gamut from entry-level to ultra-high-end. There's everything from classic floor-standing models to 100% invisible in-walls. There were many on-wall, in-wall, and in-ceiling speaker options, which is expected in a custom install show. I also spotted quite a few soundbars.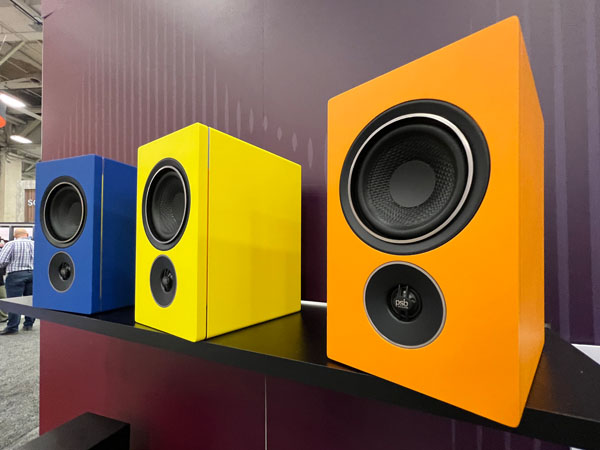 PSB's new Alpha iQ is a cute and convenient self-powered speaker system where the stereo pair connects wirelessly. It's touted as audiophile-grade and costs $1500.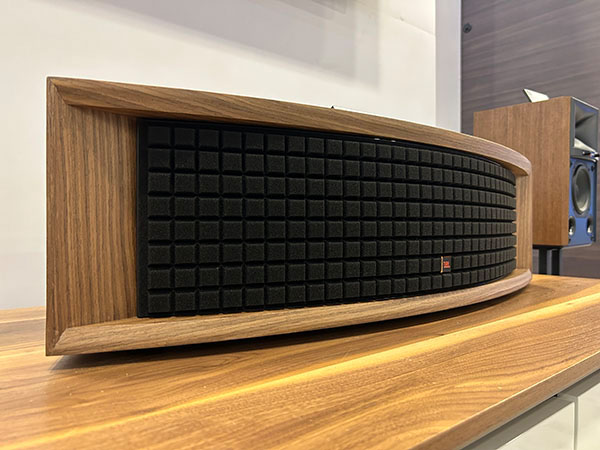 The JBL L75ms is a powerful, stylish $1500 all-in-one sound system that projects a wide sound stage and can double as a soundbar.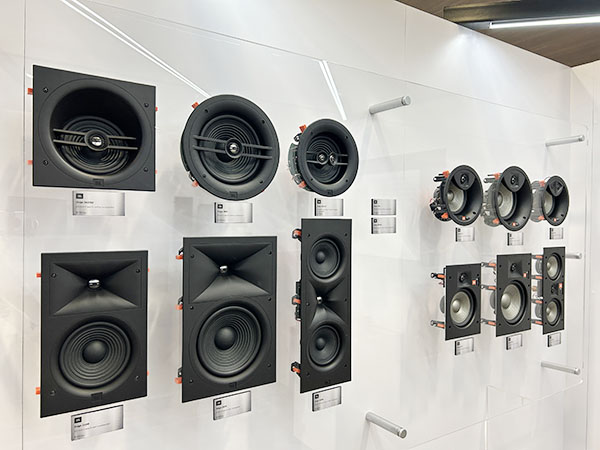 JBL had lots of new speakers to show off. Front left here is the Stage 2 series, which is designed to offer high performance at a reasonable price.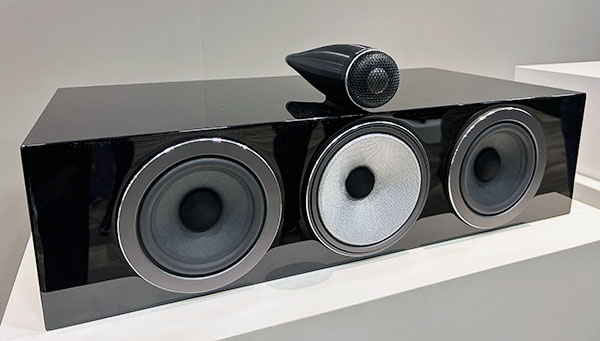 The new 700 S3 series speakers from Bowers & Wilkins include this HTM71 S3 3-way center channel with a tweeter-on-top design. It sells for $2500.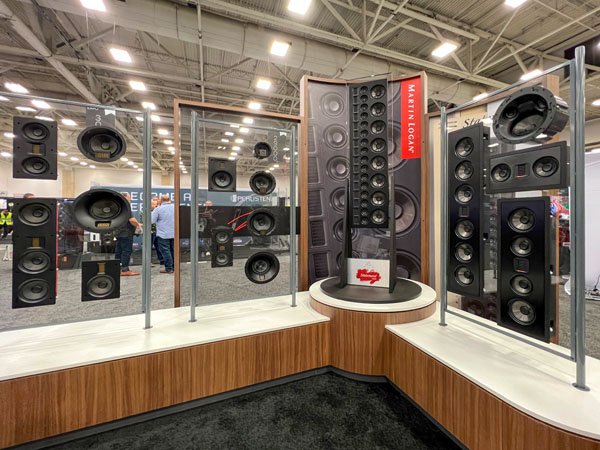 MartinLogan showed a wide variety of architectural in-wall speakers, unfortunately, I missed the demo.

A peek inside the Bang & Olufsen Beosound Theatre reveals it is no ordinary soundbar. It's packed with drivers and amplifiers and DSP technology that let it serve as a true all-in-one soundbar that delivers an enveloping and dynamic listening experience.

Focal's booth featured the company's first foray into outdoor speakers, including in-ceiling marine-rated models, on-wall weatherproof options, and even rock-shaped speakers and an in-ground sub. Now you can have the French speaker and headphones manufacturer's famous sound while outside.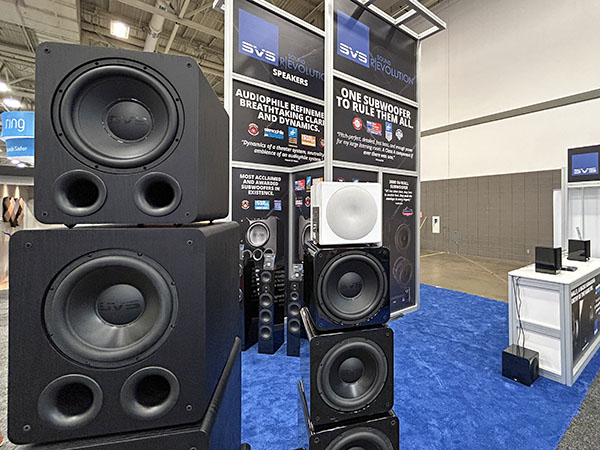 SVS had a booth on the show floor for the first time. The company brought the 3000 In-Wall to Dallas, its first architectural subwoofer offering.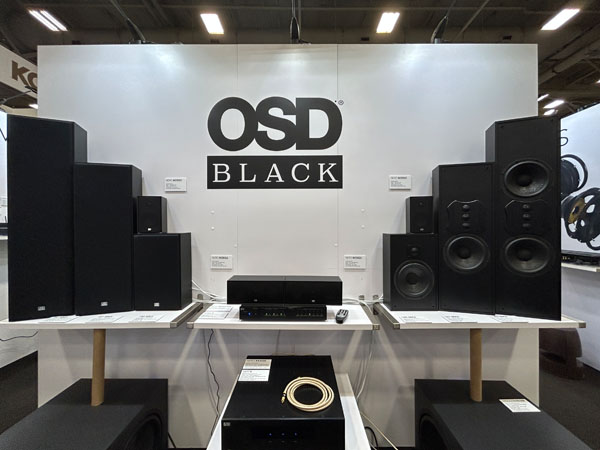 OSD fulfilled my need to find and feature a value-oriented brand, its story is simple and relatable: Get rid of the middleman, and focus on performance not fancy cabinets. I listened to a couple of system demos including the OSD Black speakers and my first impressions were positive.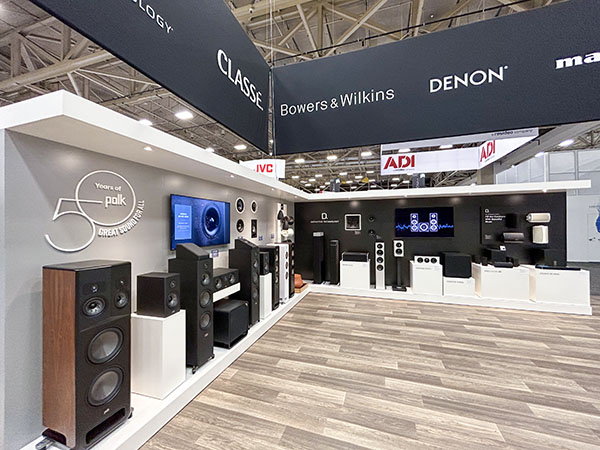 Sound United displayed the breadth of its product portfolio at the show. Here you see speakers from Polk and Definitive Technology.

GoldenEar's ForceField subwoofer line received a significant refresh under AudioQuest ownership. The new design is more of a cube than the trapezoidal shape used by the predecessor, but with a rounded top. There's a metal grill instead of cloth, and supposedly the components are a bit more robust than in the old models these subs replace.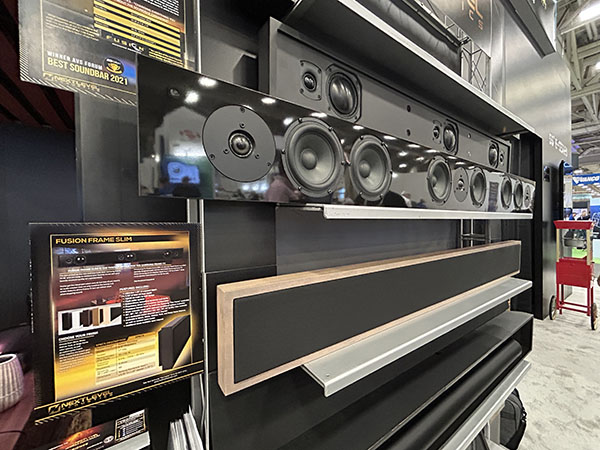 This is simply a shout-out to Next Level Acoustics, a company I saw start from basically nothing, and now here they are at CEDIA 2022 partnering with Hisense and putting on a great-sounding demo in a dark dedicated theater.
Speaking of USTs…
Suddenly UST Projectors are Everywhere
One of the more notable changes at CEDIA—since the last full show in 2019—is the emergence of 4K UST projectors. In 2019 the category was in its nascent stage, now it is robust and growing, and this was reflected in the number of booths that featured a UST.

Screen Innovations showed the Solo 3 screen with a specialized ambient and ceiling light-rejecting screen that's a lot softer and more cloth-like and resistant to creasing than the typical retracting lenticular UST screens I have seen.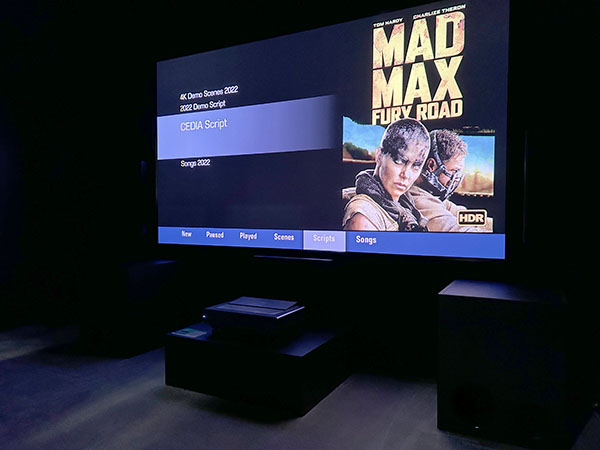 Here is the PX1-Pro projector in the Hisense home UST home theater demo, with huge Next Level Acoustics subwoofers on the sides.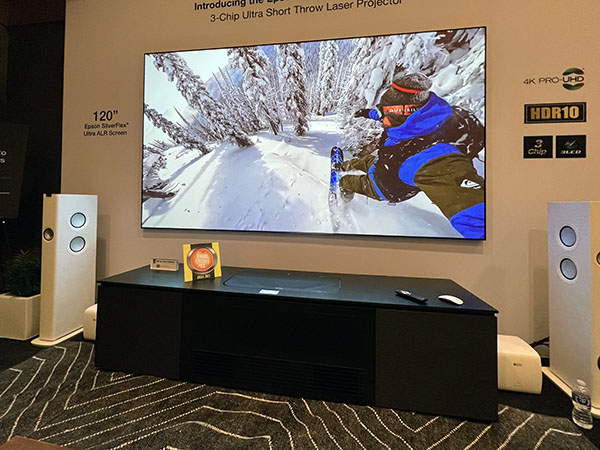 Epson's EpiqVision LS800 is the best performing UST projector I saw at the show, the only one that truly looks like a giant 120" TV in a room with the lights on. This is because it is the brightest UST out there. Plus it's better for gaming than competing USTs because it has a 3-LCD design, instead of using single-chip DLP technology like its competitors.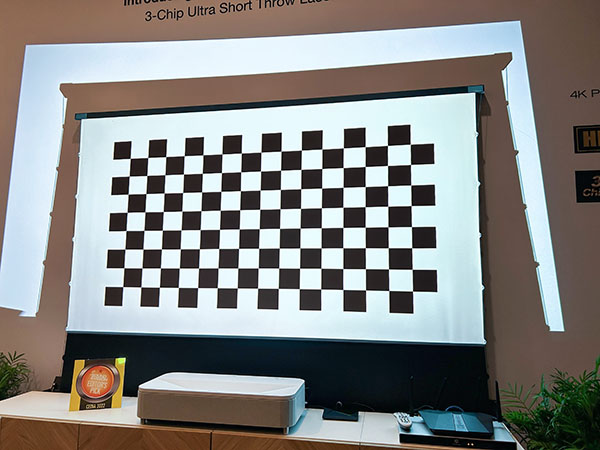 The Epson LS800 is able to quickly align the picture with the screen using a smartphone and app, handy in a pinch if someone bumps into it and the game is about to start. You'll still want to manually align it for permanent installations.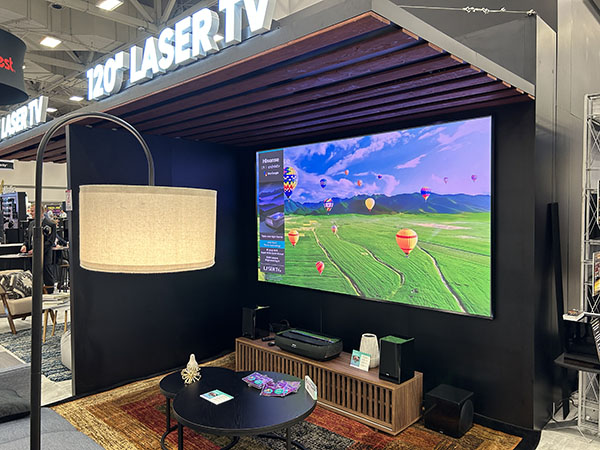 The Hisense L9G had no problem lighting up a 120-inch screen on the bright show floor.
Mini-LED and Micro-LED Walls Gain traction
Anecdotally, I overheard an installer say "30% of my projects are now LED walls" which is quite remarkable considering the high cost of the technology. But the results speak for themselves, LED walls deliver some of the most compelling imagery seen at CEDIA 2022, like OLED on steroids.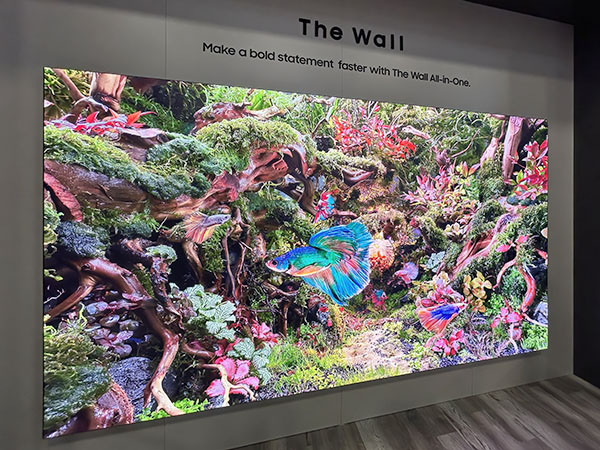 Samsung was an early proponent of custom install LED video walls; it has developed its appropriately named The Wall and now sells it as a complete all-in-one package that's easy to ship. The All-in-One The Wall fits in elevators and through doors, and you can unbox and assemble it with ease.

Sony used its Crystal LED C-Series video wall to deliver its presentations. This one measured 220 inches diagonal.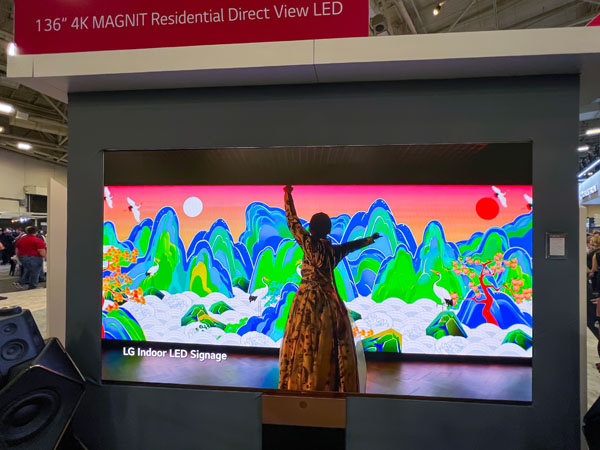 LG was not left out of the LED video wall action. It showed a 126-inch 4K direct view LED for residential use. It's only a matter of time before this technology becomes more accessible.
CEDIA: Home of the Home Theater Demo
I wish I had the time to go to all the home theater demos at CEDIA. I did manage to sneak into a few that I thought would be the best, and they did not disappoint. But, I know that there are others I missed that could be as good or better. Regardless, one of the highlights of CEDIA is how many booths have full-on high-powered home theaters set up. You don't see that at any other show in the US, not even CES.
Oh, and without question the source of choice for the demos was Kaleidescape. It was ubiquitous at the show.

A group eagerly awaits the show to begin.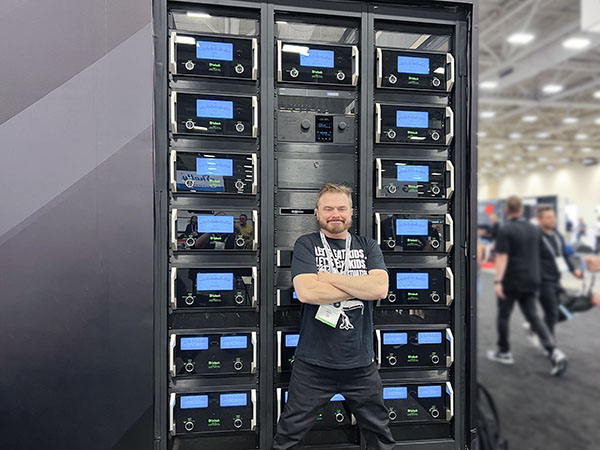 That's a lot of power!

171 inches of cinemascope excellence. Seymour Screen Excellence, that is.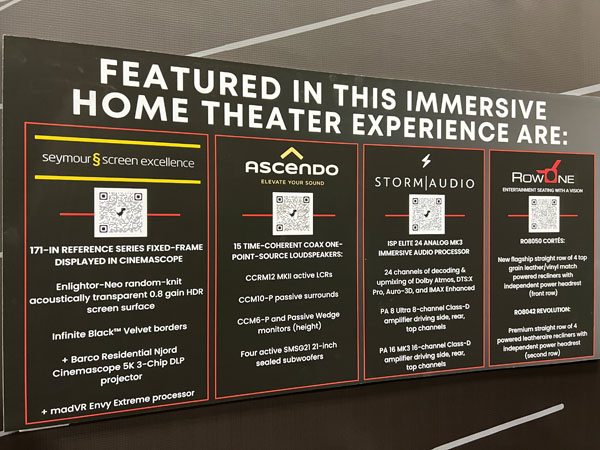 AV Receivers Receive a Refresh
The most pleasant surprise to my eyes was the proliferation of new AV receivers, integrated amplifiers, and preamp/processors. It's a category I like to see remain robust, and this year's Marantz Cinema Series rollout is the show-stopper, but the show also featured a whole new premium lineup from Arcam, and also new gear from AudioControl, among others.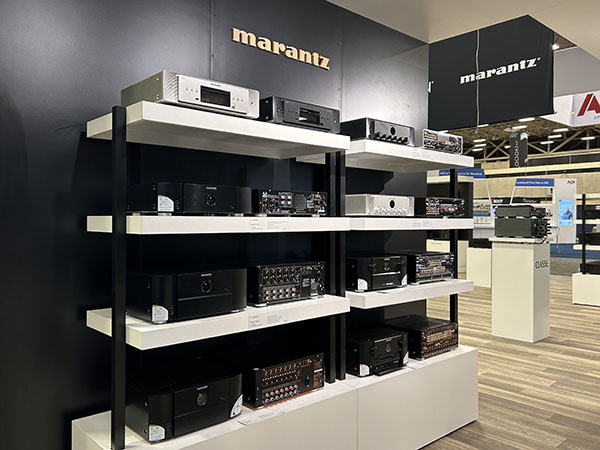 Marantz used CEDIA to roll out a dizzying array of new products.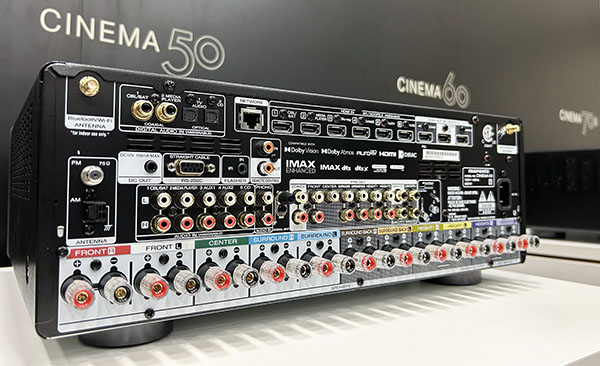 The Marantz Cinema Series includes models that support both Audyssey and Dirac Live, and now have four independent subwoofer outputs and advanced bass management capabilities.

Looking for a neo-classic JBL integrated to drive your neo-classic JBL speakers? Look no further than the SA750 ($3000). It even has Dirac Live room correction.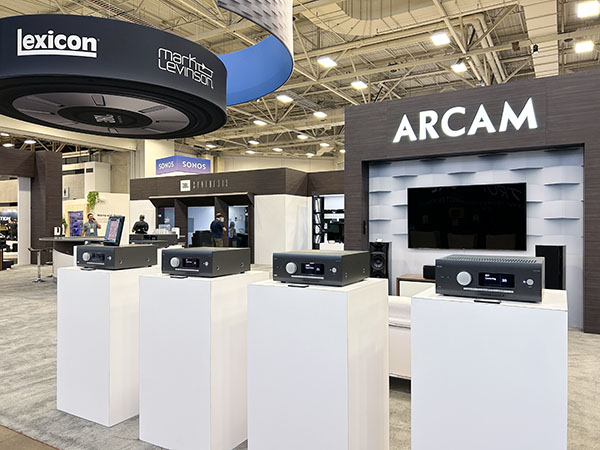 Arcam also displayed a new array of premium AV receivers.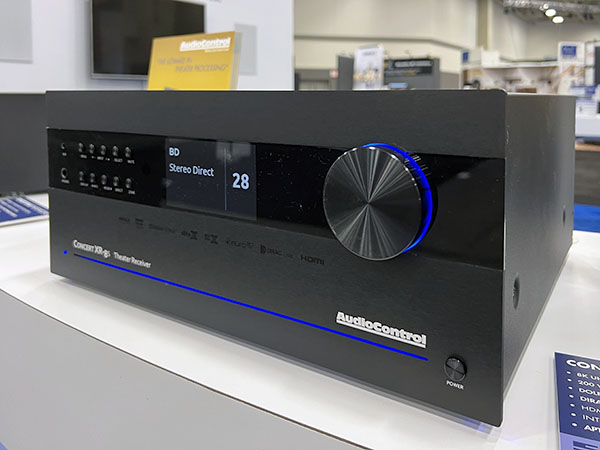 AudioControl was there, providing a variety of CI channel-centric AV receiver options.
There Were Some New TVs, Too
Both Samsung and LG introduced new 100-inch class TVs. Samsung debuted its QN100B 98″ Neo QLED, its brightest-ever TV. Meanwhile, LG unveiled the 97″ LG G2 4K OLED, the largest ever OLED and also the brightest. Sony joined the fun by showing off its new A95K 4K QD OLED TV that achieves the widest range of colors in a consumer TV, with a new approach to OLED that uses quantum dots. Oh, and curved gaming monitors showed up to the party looking spiffy.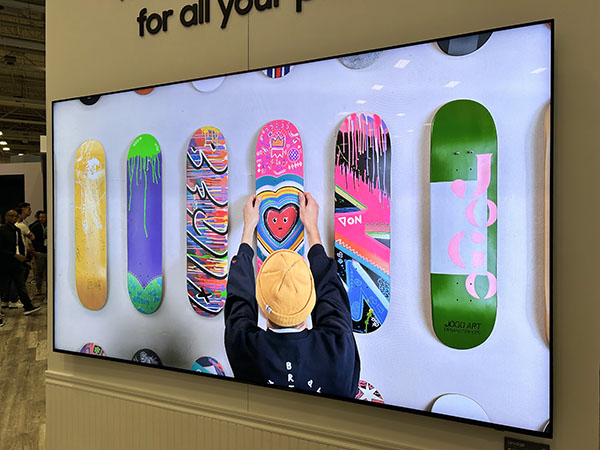 Samsung's 98-inch QN100B is said to reach 5000 nits peak brightness. The company touts it as the brightest TV it has ever made.

Samsung also showed its The Terrace outdoor TVs and brought rainstorms into the booth to showcase the weatherproofing.

Bang & Olufsen will take your LG Gallery OLED and give it the throne it deserves atop a Beosound Theatre soundbar. Nobody does stylish high-end lifestyle TV audio quite like this.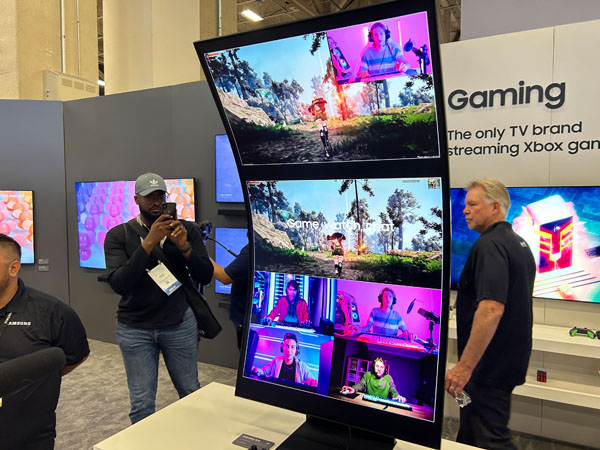 The Samsung Odyssey ARK is a 55″ curved 4K Neo QLED that rotates so you can use it in landscape or portrait mode. The picture quality is pure eye candy and it is designed for gamers with ultra-low lag and high refresh rates.

The LG OLED Flex has 4K OLED picture quality and offers the option of a flat or curved screen view. By switching between flat and curved you can experience for yourself the difference, and see firsthand why for gaming, curved screens offer a more immersive experience. But then when you are just browsing the internet, it reverts to being a regular flat monitor. Very cool.
A Bit of Star Power & That's a Wrap
LG provided a lasting memory by throwing a party featuring a performance by John Legend. What's crazy is how much of CEDIA 2022 in Dallas I was not able to cover, even just with images. It's big, it's CEDIA and it is back! Here's to a bright future for the world of AV entertainment.