"I'm just very grateful we're allowed to, by grace, manifest some really,
really
high-standard, quality music. We do not have to be
victims
of static."
That's rock legend Carlos Santana, succinctly summarizing two things at once: a) the fine art of making music worth listening to, and b) being able to hear that music as clearly as the artist intended. (To that end, Carlos and I wound up switching phone lines during the front end of our conversation in order to hear each other with a much better-sounding connection, but that's another story.)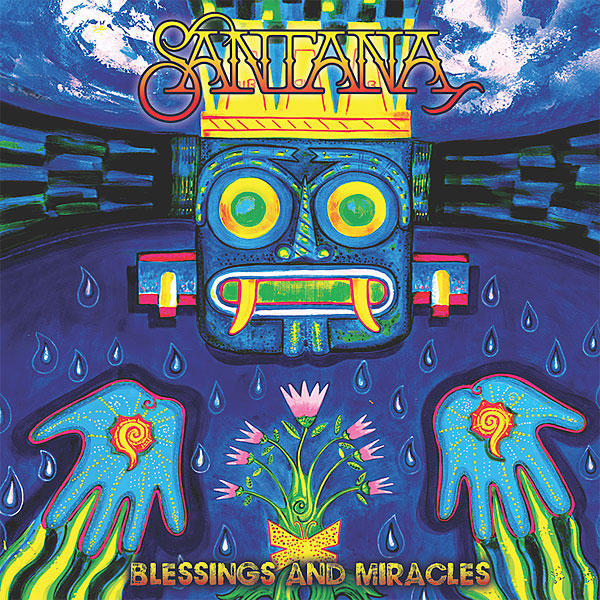 All this ties in quite logically with Santana's transcendent new album, Blessings and Miracles (BMG), which initially came out on CD and all digital platforms back in October 2021. It's a succulent international blend of 15 song flavors from Santana's magic fingers along with guest support from the likes of Chris Stapleton, Steve Winwood, Chick Corea, and Metallica's Kirk Hammett, to name but a few. And finally—finally, as of March 18, we now also have Blessings and Miracles available to us for even deeper listening via high-grade 180-gram double-LP wax.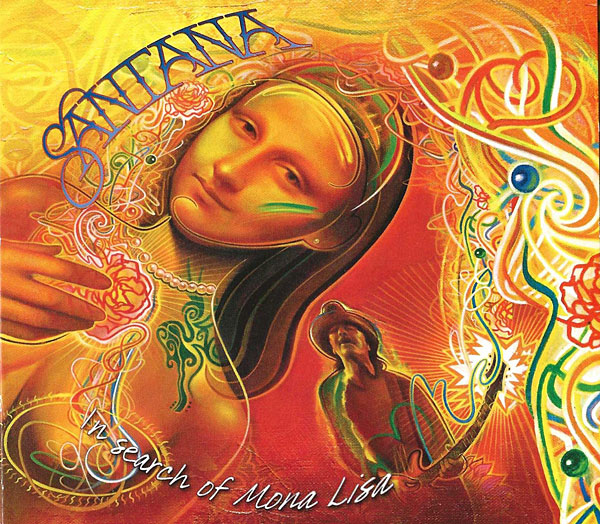 "I am very grateful this album is now on vinyl," Santana tells me almost immediately after we eliminated the static from our call. "You know, it's wonderful to actually see something tangible like the old days where you can open it up, read it, and be fascinated with the colors. The art is really incredible too." Wholly agreed on all points, Carlos. For the record, the striking Blessings cover art was done by Sal Garcia. The package's overall graphic design was handled by longtime Santana graphics collaborator Heather Griffin-Vine, who also took care of the design work for January 2019's The Search for Mona Lisa EP and June 2019's Africa Speaks LP. (Cover art for both of those releases came courtesy Rudy Gutierrez.)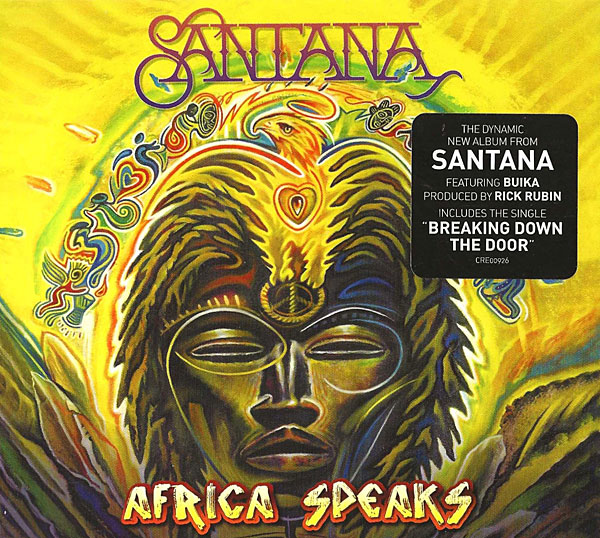 (Incidentally, if you're interested in taking a crack at winning one of three Blessings LPs or a limited-edition Carlos Santana hand-signed Blessings & Miracles PRS SE Doublecut electric guitar for yourself, then go here to enter our exclusive sweepstakes.)
When it comes to how this mythical, mystical shaman makes his music, few people could be more inside the creative process than his wife Cindy Blackman Santana, an A-list drummer in her own right who appears behind the kit on the balance of Blessings and also has one of its more touching tracks named in her honor ("Song for Cindy") to boot. "When you're working with a person like Carlos, it's just so musical that, basically, you have to say, 'Go play,'" she observes. "And then whatever comes out is indicative of his level of musicianship, his level of hearing the music, his taste, and his choice of notes and rhythm. It's a beautiful thing to witness, and to be a part of what he does."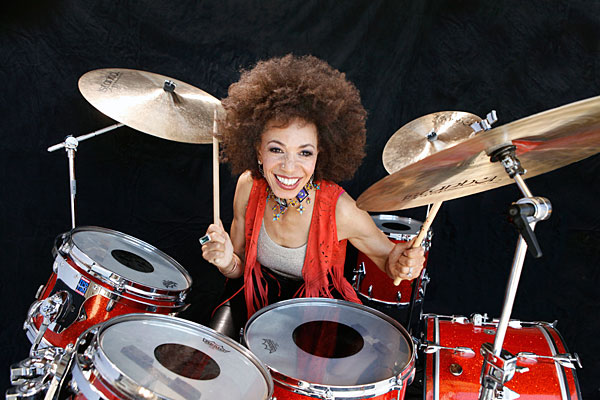 Cindy also has quite fond memories of the first time she ever heard Santana's music. "The first record of his I probably checked out and was aware of is called Oneness [released in March 1979]. And then I heard Love Devotion Surrender [the acclaimed Carlos Santana/John McLaughlin collaborative album released in July 1973]," she recalls. "Yeah, Oneness was the record that really did it for me. But Carlos and John McLaughlin together—I mean, getting those two anywhere is just an incredible ignition of energy, fire, imagination, innovation, and inspiration." (Testify!)
As I noted at the outset, once we removed the static from the equation, Carlos, 74, and I were back on the horn to discuss the finer points of Blessings, which song from his deep catalog he feels would be best represented by a full 360-degree-immersive surround sound mix, and how the smash hit "Smooth" contains the keys to great art. We're coming to life / and today is a brand new day. . .
Mike Mettler: You grew up in the vinyl era. Is that the best way to put the needle down on Santana music, quite literally?
Carlos Santana: I grew up with vinyl, and then came 8-track and cassettes, and everything else. (MM chuckles) And I'm like an Apache with the blanket and the smoke signals, you know? As long as we communicate, I don't care if we communicate with drums, or with blanket and smoke.
Some people get attached to, "Oh, I don't like digital," and I'm like, "I don't care. That's your thing." I'm not really into the "do or die" over this or that. As long as I can hear the music and I can feel the music, then I'm cool.
Mettler: Me too. I'm going to add that anytime I can hear your music in a surround sound, 360-degree format all the way around me, I think it's the best way to do it because I feel like I'm in the middle of your thoughts, so to speak. Does that sound good to you?
Santana: Yeah! Yeah. We're connected. We're connected to the same umbilical cord.
Mettler: If there was one song from your catalog you feel is best represented in the 360-degree surround universe—the one that connects to you the most—which song of yours would that be?
Santana: (no hesitation) "Novus," the song I did with Placido Domingo. That's a special song! (laughs)
Mettler: Oh yeah. Wow. That's an amazing call. And I know just who to talk to so we can make that happen in Atmos, by the way, because we totally need to hear "Novus" all around us like that.
Santana: (laughs) Ok, ok! Go for it.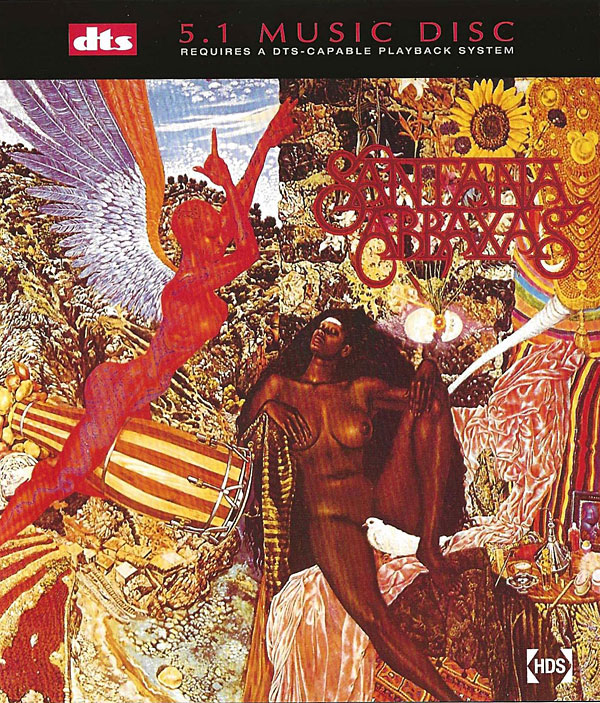 Mettler: I'm on it! (laughs)
[MM adds: Though it's not yet available in Dolby Atmos and/or 360 Reality Sound, you can hear "Novus" in its full Dolby Surround 5.1 glory on the DVD-A version of October 2002's Shaman. Other Santana physical surround releases include September 1970's Abraxas in High Definition Surround via DTS on DVD-A, as well as both June 1999's Supernatural and the aforementioned Shaman on DVD-A in Dolby Surround. (The Abraxas SACD is only in Stereo.) Meanwhile, over in the streaming realm, you can find a pretty good Santana 360 Reality Audio playlist on Tidal, which includes 24 fully immersive song selections culled all across Carlos' Columbia Records-era catalog.]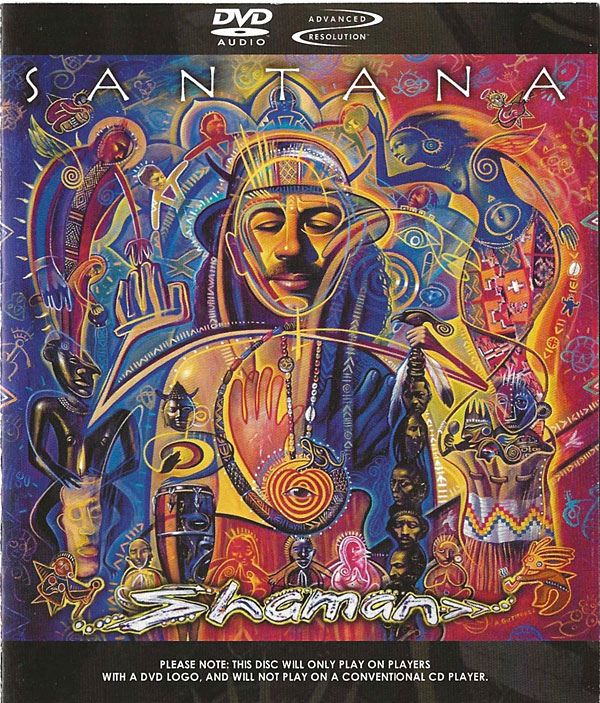 Mettler: When we first met in person back in July 2010, one of the more important phrases I gleaned from that conversation we had is the concept of "love and light," which is something you often talk about. I feel like creating love and light are the two main goals of your music.
Santana: Oh, well, thank you! I can go with that because this is a truism, from Bob Dylan to The Beatles to Bob Marley to Billie Holiday—everybody I love—since their music hangs outside of time. It's not the flavor of the second, you know? It's like Jimi Hendrix: "Excuse me while I kiss the sky." And what does that mean? It means he's connected to infinity—and he's gonna connect you, too. [That classic Hendrix lyrical phrase is, of course, a key line from the Jimi Hendrix Experience's groundbreaking March 1967 single, "Purple Haze."]
Mettler: I totally agree with that, and it also makes me think of a number of artists who are represented on Blessings and Miracles who are not even with us right now. Like your cover of Procol Harum's "A Whiter Shade of Pale" with Steve Winwood singing it—I feel like that song has even different weight to it because Gary Brooker just passed on to the other plane. Do you still feel a connection with people who aren't with us like Gary and Chick Corea, who's at the end of the record on "Angel Choir/All Together"? Even though they're not here with us on this plane, you're still connected to them, aren't you? [Gary Brooker, lead singer/keyboardist for Procol Harum, passed away in February 2022. Renowned jazz innovator/keyboard maestro Chick Corea passed away a year earlier, in February 2021.]
Santana: Absolutely. It's like I say: "When you come to a Santana concert, you can feel Jimi Hendrix to the left, and Stevie Ray [Vaughan] to the right. Jerry Garcia's here, Bill Graham is here, and so is Miles Davis." They're all cheering for me, because they know I'm continuing something I learned from them. I'm a continuation of their aspiration.