Fall 2021 was a period of intense highs and lows for streaming giant Netflix. At one extreme, it scored an international hit with
Squid Game
, a Korean production that quickly became the service's must-watch, most-watched show, drawing in over 111 million viewers during its first month. At the other extreme, a Netflix original comedy special, Dave Chappelle's
The Closer
, drew intense criticism from the transgender community over its targeted jokes. The backlash over
The Closer
even spread to the ranks of the company's employees, hundreds of whom staged a walkout and protest, calling for its removal from the service. Adding to Netflix's woes during this time was the imminent cancellation of the service by a longtime customer,
Sound & Vision
editor Al Griffin.
My reasons for canceling Netflix had less to do with the controversy over the Chappelle special, which I can't say I've watched, than a gradual realization that the service had become superfluous for me. I first became a Netflix subscriber way back in the, I don't know, mid-2000s? At that time, I was seeking a steady flow of DVDs to my mailbox — I had the unlimited disc plan — so I would always have something interesting on-hand to watch. Things got even better when the service upgraded to Blu-ray discs, and when streaming eventually ramped up and they made it a free add-on for viewers like me with a top-tier disc plan, the value of Netflix became unquestionable.
But things have changed at Netflix over the past few years, and not for the better. The addition of titles in 4K/HDR with Atmos sound was a plus, but there suddenly seemed to be fewer movies available — a lot fewer. Taking up the virtual space previously occupied by movies was a new offering: the Original Netflix Series. And while some of these have been quite good — Mindhunter, Black Mirror, The Queen's Gambit, and Stranger Things (seasons 1 and 2, at least) come to mind — the majority appear to be filler and aren't worth my time. Netflix, it seemed, had run out of steam.
Before I canceled my account, I did take advantage of one cool feature Netflix offers: the ability to download your viewing history in a .CSV file format that can be loaded into an Excel spreadsheet. Looking at the detailed list of my disc- and streaming-based viewing brought back plenty of great memories of movies, documentaries, and TV series that I've enjoyed over the years. So many of them! My takeaway from the spreadsheet data: I had made the most of my subscription.
Breaking up is hard to do, but the media streaming universe makes the task easy. You visit your Account info screen, click the Membership & Billing tab, and click Cancel Membership. Relationship terminated. But before I took those final steps, I allowed myself one final binge-watch: Squid Game. It was really good — for the most part. Goodbye Netflix.
The Beatles: Get Back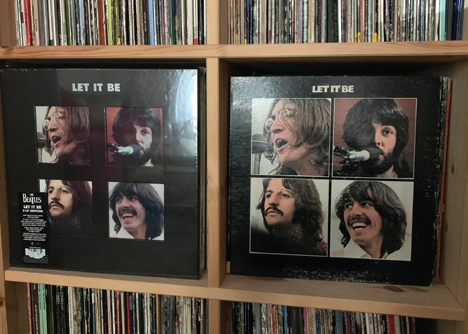 Any money I saved by canceling Netflix was diverted to Disney+, where I watched the new Peter Jackson documentary series The Beatles: Get Back. That much-loved band's Let it Be, their post-breakup album, holds a special place in my consciousness due to it being my first Beatles LP. I had asked my parents for the glitzy Rock 'n' Roll Music two-disc set that had just been released by Capitol Records, but instead found Let it Be sitting under the tree when I came downstairs on Christmas morning. At first disappointed, I came to love Let it Be with its mix of melodic, expansive, soulful, and genuinely rockin' songs. I still have that same disc in my collection, where it now sits alongside the lovely new 5-LP Let it Be box set with fab new mixes by Giles Martin and Sam Okell.
Check out our resident Beatle-ologist Matt Hurwitz's authoritative feature to learn about the making of the original Let it Be album and the remixed version, along with a behind-the-scenes look at Jackson's deep-dive documentary. Also don't miss Mike Mettler's review of the Blu-ray/five CD super deluxe edition of The Beatles: Let It Be.