Bowers & Wilkins, the equivalent of audio royalty in England and around the world, staged a press event yesterday at Soho House in New York City's trendy Meatpacking District to flex its muscle in headphones, a category the brand has been slowly expanding over the past decade or so.
The star of the show: the new Px7 S2 wireless, noise-canceling headphones, which replaces the PX7 as B&W's top over-ear model while holding the line on price at $399. And it's not a just simple update, the new model was redesigned from the ground up, as marketing VP Giles Pocock and brand activator Peter Madueno explained in a detailed overview of the headphones.
Compared with its predecessor, the Px7 S2 features a lighter weight construction, a slimmer physical profile, and new low-distortion 1.5-inch (40mm) drivers, each of which is angled at a precise distance from the listener's ear to create an "immersive soundstage." The S2 mates AptX Adaptive high-resolution wireless signal transmission technology with B&W's proprietary digital signal processing and newly developed noise-cancellation circuitry.
Giles Pocock, VP of marketing for Bowers & Wilkins.
Voice communication is facilitated via an upgraded system with six high-performance microphones, two of which measure the output of each drive unit, while two react to external noise. The remaining mics are said to facilitate clear voice communication while delivering enhanced noise suppression over the S2's predecessor.
The Px7 S2 is the first set of headphones to work with the Bowers & Wilkins Music App, which in addition to facilitating set up and mobile device pairing, provides access to the connected phone's voice assistant (Siri on the iPhone, for example) and a set of user-adjustable EQ controls. Listeners can also monitor battery level and turn noise cancellation on and off or engage a transparency mode through the app. Alternatively, physical controls on each earcup also provide access to all features, including voice-assistant support, for those who prefer listening without having to open the app. B&W says a future upgrade will make it possible to stream music directly from the app to the S2 headphones.
Battery life for the Px7 S2 is rated for approximately 30 hours on a full charge and a 15-minute quick-charge mode is said to provide up to 7 hours of listening time.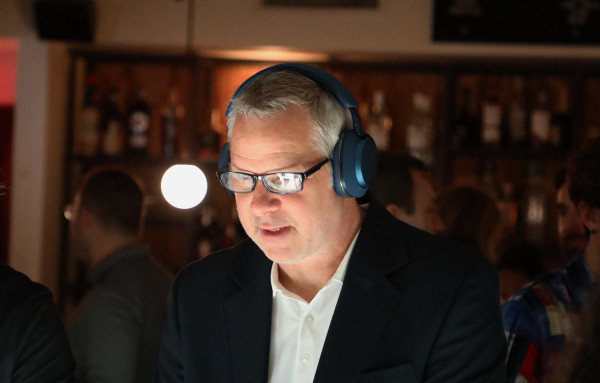 Other highlights include an improved fit and upgraded materials, including memory foam earcups to ensure comfort during long listening sessions. Indeed, Bowers & Wilkins seems to have considered even the smallest details in the S2's design. The earcups are built to seal out external noise, even if the listener is wearing glasses and, when the headphones are removed, the music automatically pauses and then restarts when they're back in place.
The Px7 X2 supports USB-C and 3.5mm minijack connections and includes cables for each along with a new carrying case that is slimmer than the one provided with the PX7. The S2 is available in gray, blue, and black, each with color-matched detailing.
Capping off the presentation, officials from B&W and its parent company Sound United announced that an even more upscale flagship noise-cancelling headphone model, the Px8, is slated for release later this year; it will sell for $549.
First Impressions
Px7 S2 listening stations were set up in the center of the noisy room where the reception was held and in its numerous comfy seating areas, affording guests the chance to get up close and personal with the new headphones using a wireless tablet as the music source. First impressions from my audition were of substantial headphones with a premium feel that delivered audiophile-grade sound I would describe as clear and punchy. When I switched in the noise canceling circuitry I was surprised by its effectiveness — almost all of the crowd noise vanished.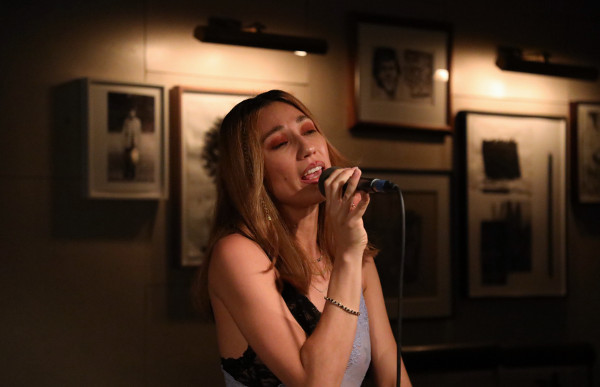 Guests were treated to a live performance by a special music guest whose identity was kept secret right up until show time. Tei Shi, Columbian-Canadian singer/songwriter and record producer, entered the room to much enthusiasm and performed several songs from a catalog that, as one critic recently put it, "bubbl[es] with catchy choruses, dreamy instrumentals, and intimate lyricism akin to romantic Spanish [love songs] of the 1970s and '80s."