PRICE $799
AT A GLANCE

Plus

Impressive Imaging
Excellent timbre
Well-controlled dynamics
Alexa voice-control

Minus

Limited bass output
No wired inputs
THE VERDICT

The Zeppelin remains expensive as always, but the new 4th generation still delivers uncanny imaging and superb timbre from a small desktop speaker design.
The loudspeaker landscape is dotted with so-called classics. Legends like the Klipschorn, the Quad ESL, and the JBL L100 have remained in production for decades or enjoyed successful reboots not just because they appeal to our nostalgia, but because they remain bonafide audiophile-grade products.
If these speakers represent the enduring legacy of the old guard, I'd argue that the Bowers & Wilkins Zeppelin has earned its place as perhaps a modern classic of the digital age. It wasn't the first iPod dock when it appeared in 2007, but it was the right speaker at the right time. Its launch conveniently coincided with Apple's sixth-gen iPod, offering a then-whopping 160 gigabytes of memory—more than enough to forgo low-res MP3s in favor of high-quality rips that begged for a premium, self- powered speaker. The first Zepp was blessed with high-end drivers, class-D amps bolstered by cutting- edge digital-signal processing (DSP), museum-worthy cosmetics from industrial designer Morten Warren, and a breathtaking price of $600. It was the first "audiophile lifestyle" speaker—a genre that acknowledged there were other ways to get great sound than hulking towers and a rack of gear.
Here we are 15 years later, and the unmistakable Zeppelin has been reborn for its fourth genera- tion. I reviewed the second-gen Zeppelin Air for Sound & Vision back in 2011. The audition proved memorable in ways I'll describe, but outwardly, today's Zeppelin is unchanged but for its higher $799 price and the welcome lack of a gangly iPod docking arm. The dimensions of the blimp-like cabinet are about the same at 24.6 x 8.3 x 7.6 inches (WxHxD), and it remains hefty at 14.3 pounds.
The Zeppelin's rounded front is all grille-cloth, interrupted only by a brand nameplate and a new brushed-metal stand that lifts it an inch or so, allowing it to throw a delicate halo of light in front of the speaker. The cloth is available in the original dark Midnight Grey or a lighter Pearl Grey. The design remains a thing of timeless beauty. It's so understated that it never calls attention to itself, and yet, once you spot it you cannot help but be awed by both its size and style.
The Zepp's sealed cabinet is made from a glass-fiber reinforced ABS polymer, but the depth and shape of the rear-facing side have been rejiggered to increase internal volume for better bass. It is reassuringly inert when you rap it with your knuckles.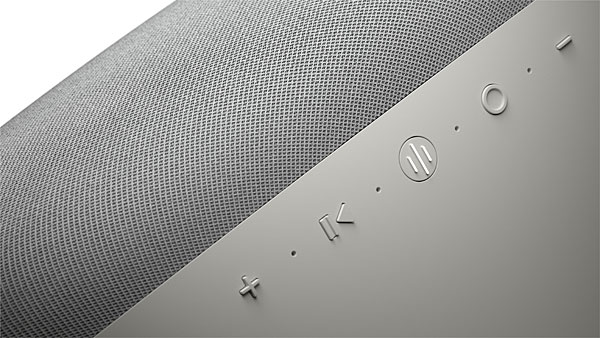 Built into the top of the cabinet are some raised buttons: + and – for volume, play/pause, a button to disable the new four-mic array for Alexa voice commands, and a backlit Multifunction button. There's no power switch; the Zeppelin turns on when you send music to it and goes to standby 20 minutes after pause.
Behind the non-removable grille are a 1-inch aluminum tweeter and 3.5-inch woven composite midrange for each channel that have been carried over from the prior generation Zeppelin, plus a single 6-inch woven composite subwoofer updated for this version. B&W's double-dome tweeter design has a ring of thicker aluminum around the main dome to add rigidity, while the mids use "surround-less" FST (Fixed Suspension Transducer) technology. The new subwoofer is more linear than its predecessor and provides improved bass sensitivity. Amp power has also been substantially upgraded from 150 to 240 watts total, with 40 watts each to the tweeters and mids, and 80 watts to the subwoofer. As before, the system employs DSP and Dynamic EQ to keep the amps and drivers in their optimal range.
Behind the metal stand is a Reset button and the connections: a power cord jack and a USB type-C port that can be used for a wired network connection in lieu of Wi-Fi. That's it—no wired inputs. I get that most ports on a wireless speaker go wasted, but I missed not having an optical input for connection to a TV. As a consolation, the Zeppelin is AirPlay-capable and you can stream sound from an Apple TV or mobile device, as I did from my iPhone when watching an episode of Reacher. It's an awesome speaker for video, and the omission of even a single wired input is a lost opportunity and, frankly, an oversight in an $800 system.
That said, along with AirPlay 2, the Zepp supports streaming via Bluetooth aptX Adaptive (with support up to 24-bit/48kHz), Spotify Connect, and services you can link directly from the Bowers & Wilkins Music App (iOS or Android). The app functions as a user interface and will be a multi- room hub for homes equipped with the company's Formation wireless speakers (pending an imminent update). It is required for set-up and for daily operation (short of using voice commands). At this writing, you can link accounts from Tidal, Qobuz, and Deezer for CD quality and high-resolution streams up to 24-bit/96KHz thanks to an upgraded DAC—which makes this the first hi-res Zeppelin. Other services include TuneIn, Last.fm, SoundCloud, NTS for global radio, and DASH for commercial-free stations. B&W also expects to add UPnP support for servers soon.
Setup

The Music App is attractive and intuitive, and worked well. Setup was smooth and simple. To begin, I placed the Zeppelin on a sturdy speaker stand in the center of my listening room that put it at ear height about 8 feet away from my seating, though I eventually moved the couch back to 10 feet to let the soundstage bloom. (An optional wall bracket is available for $99.) Aside from a large projection screen one foot behind providing modest reflectivity, there were no nearby walls to bolster the imaging or bass response.