In my last two posts —
Big Screen Decisions
and
You've Got to Hide Your Screen Away
— I discussed major changes that have taken place in the display market. When I started my career as a custom installer, getting a cinema-size image meant a front projection system in a light-controlled room. But technology has since developed to the point where you can now get a 100-inch flat-panel TV for well under twenty grand. (Sony's 100-incher is currently selling for $17,000 and, as of this writing, Samsung is selling its 98 incher for just under $13,000 — $2,000 off the list price.)
Of course, a massive flat-panel TV creates design challenges for rooms, and my previous blog covered ways to mitigate the harm that mounting a 100-inch black screen on the wall can have on your home's décor. As it turns out, there are plenty of options here, such as using the display as a digital canvas, framing it like a piece of art, or using a motorized lift to conceal it when not in use.
But which solution is right for you? For this blog, I thought I'd go through some of the conversations we have with clients when helping them determine whether to go with a large flat-panel TV or a projection system.
The Size
This is a no-brainer. If you're considering a screen under 90-inches diagonal, go with a flat-panel TV. If your room can support a screen over 120 inches, definitely consider projection. Unless you have the budget to go with a new MicroLED display like The Wall from Samsung or Sony's Crystal LED. Then do that. And invite me over to watch.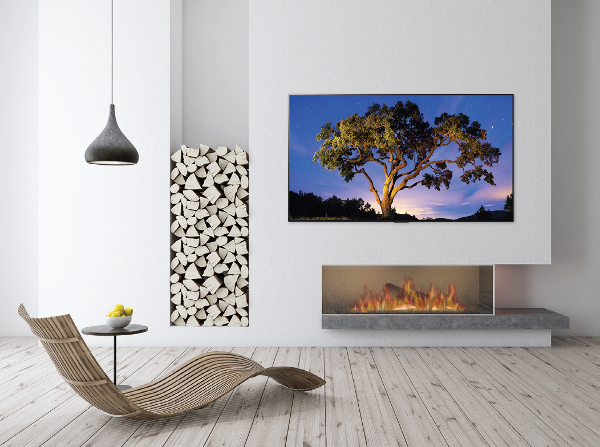 The Environment
Where I live in South Carolina, the water table is so high that almost no homes have basements. (I can think of one we've worked on over the past 25 years.) Most homes have lots of glass to take advantage of views, and generally don't have a light-controlled room purposed for a dedicated theater. And even though projection technology has improved significantly over the years — with far brighter projectors, greater placement flexibility, and ambient-light-rejecting (ALR) screens — a projector still always looks best in a dark room. If you plan on using this display at all times of the day, and it is going in a room without control over the lighting, you will probably be better off with a flat-panel TV.
The Install
Flat-panel TVs are easier, faster, and cheaper to install than a projection system almost 100 percent of the time. This is especially true if it's a retrofit into existing construction. At a minimum, the latter requires power, which is almost never located where the projector will mount, so that means electrical work. And while there are wireless HDMI transmitters, due to the massive amount of data involved in 4K/HDR video transmission, we never use them and insist on the reliability of hardwired cables (preferably fiber optic) for these runs.
If you plan on using a motorized screen, that is more power wiring and likely also some kind of control wire like a 12-volt trigger from the projector. In some homes, running this wiring isn't practical or even possible. Conversely, it doesn't take any more time — just more people! — to install a 100-inch flat-panel than it does a 55-inch one, and it is nearly always easier to retro cabling — power, HDMI, Ethernet — to a wall-mounted TV.
The Budget
In the past, front projection was always the more expensive option, but now with large flat-panel TVs selling for $15,000-$17,000, the situation has flipped a bit. You can purchase a true 4K projector from Sony or JVC starting around $6,000, with other companies offering pixel-shifting 4K models for half that amount. Bottom line: Even when using with a high-quality screen, you can assemble a projection system for well under fifteen grand. Of course, depending on screen size, features, and performance expectations, you might need a projector priced far higher than $6,000 (step-up JVC and Sony models offering increased light output and more flexible setup options start at $10,000-$11,000.) But if your video budget is in the $10,000 range, projection will actually be more affordable.
The System
Another big difference between flat-panel displays and projectors is the accompanying equipment they require. A projector is just that — a projector. It still needs a screen, source components, speakers, and amplification to create a functioning system. All of that gear probably also means having a universal remote control, plus a storage closet and rack for the equipment. A flat-panel, on the other hand, can be a complete system, with speakers and streaming services built right in. For rooms where you don't care about assembling a high-performance surround-sound system, the all-in-one simplicity of a large TV might be appealing.
Now, as Yoda said, there is another…option. Say you love the look, design, and installation ease that a flat-panel TV offers but want the cinema-size image of a projection system. In my next blog, we'll talk about those other available options.
The Author
For the past 20 years, John Sciacca has worked as a custom installer in South Carolina. In his free time, he enjoys drinking craft beer and watching movies on his 7.2.6 surround system.