The predictably unpredictable month of March delivered its usual rollercoaster of weather (at least here in the Northeast). The month that roars also turned out a varied mix of
Sound & Vision
Top Picks — from an outstanding home theater projector to a set of wonderful sounding wireless earbuds from an iconic audio brand that you didn't even know makes earbuds. At last, spring is here. Enjoy it.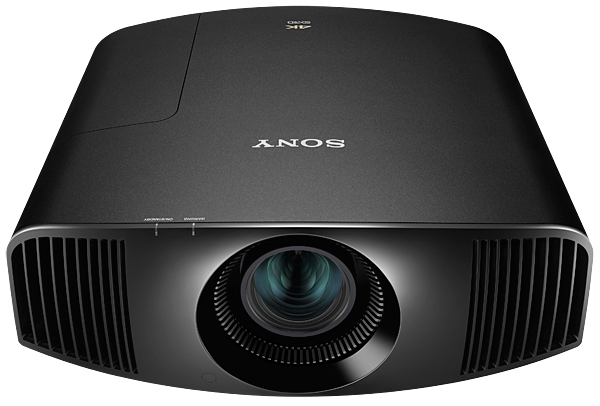 Sony VPL-VW325ES 4K LCOS Projector: $5,499
An update of the entry-level VW295ES 4K projector we reviewed back in 2018, Sony's VPL-VW325ES brings a few new features into the fold but, like its predecessor, is still best suited for use in home theater rooms that can be darkened. In addition to a number of useful features that carry over from the 295ES — including an input-lag-reduction mode for gaming, 2.06x powered zoom lens, powered lens shift, and the excellent Cinema Film 2 mode — the most notable upgrade is the projector-optimized version of Sony's excellent X1 picture processor, which analyzes images scene by scene to enhance contrast and detail.
Positioning the VW325ES 14 feet from his 92-inch (diagonal) screen, reviewer Al Griffin found it easy to adjust the picture and then calibrate it, thanks to the accuracy of the Cinema Film 2 setting. "After fine-tuning brightness/contrast, calibrating grayscale, and tweaking Reality Creation settings to eke out that very last ounce of detail, the picture looked nothing short of fantastic with most discs and video streams," he wrote, noting the projector was "happiest in a dark room," especially when watching sports.
Streaming the animated film Encanto in 4K/HDR over Disney+, Griffin was mesmerized by the bright, rich color. "Bright highlights looked intense, though not overly aggressive, and black backgrounds in the night scenes came across as thoroughly solid." Watching Dune on Ultra HD Blu-ray, he marveled at the detail and texture of the uniforms and fabric capes and called the film's special effects "stunningly realistic." The Sony VW325ES is the least expensive true 4K projector you can buy and it's a great all-around choice for movie fans who don't want to spend a fortune.
AT A GLANCE

Plus

Excellent detail
Vivid color reproduction
Motorized focus, zoom, lens shift

Minus

Relatively limited light output
No dynamic iris
Basic HDR tone-mapping adjustment
Full Review Here (posted 3/2/22)
Technics EAH-AZ60 Noise-Canceling True Wireless Earbuds: $230
It may come as a surprise that the brand that gave us the iconic SL-1200 turntable, makes earbuds. Indeed, the Technics EAH-AZ60 noise-canceling wireless earbuds live up to a stellar reputation that has been cultivated over more than 50 years. Priced just above the comparable Jabra Elite 85t 'buds that that triumphed in our 2021 face-off, the AZ60s are resistant to water, compact and comfortable to wear for long periods of time, and designed to provide more than 7 hours of continuous listening pleasure on a single charge. Noise control is adjustable as is the useful Ambient mode and a companion app puts an equalizer at your fingertips so you can customize the sound just the way you want it.
That's all well and good, but how do they sound? "Superior" is the word Technics uses to describe sound quality. They're not wrong. Listening to a variety of music — from folk to guitar-based rock to electronica — Al Griffin praised the warm, lifelike sound, deep bass, and enveloping soundstage he experienced: "I found myself quickly immersed in the music, with the AZ60's relaxed, yet detailed sound." If you're looking for a "level of hi-fi-ness" not often associated with earbuds, start here.
AT A GLANCE

Plus

Great sound quality
Impressive noise cancellation
Compact form factor
Long battery life

Minus

Somewhat pricey compared to other true wireless earbud options
Full Review Here (posted 3/8/22)

HiFi Rose RS150 Streaming DAC: $4,995
If you haven't heard of South Korea's HiFi Rose, you're not alone. A division of the 50-year-old Seoul-based consumer electronics manufacturer Citech, the brand specializes in audiophile-grade media streamers that incorporate many original components. Built like a tank, the RS150 packs a streamer, digital-to analog-converter (DAC), and digital preamplifier into a standard-size component with a positively stunning touchscreen that commandeers its front panel. You can operate the streamer from the touchscreen or through a companion app or remote control. As reviewer Howard Kneller is quick to point out, the core of this flagship streamer is a super-fast processor that supports ESS Technology's proven Sabre ES9038PRO chipset for playback of PCM and DSD signals up to 32-bit/768kHz and DSD512, respectively.
The RS150 is Roon Ready and supports streaming via Apple AirPlay, Bluetooth, and Wi-Fi and can stream directly from Tidal, Spotify, Qobuz, and YouTube addition to decoding MQA files and providing seven (!) digital filter options, making it a dream come true for inveterate tweakers. And, though there are no dedicated video inputs, you can enjoy video and album art in resolutions up to 4K/60Hz on a TV or projector hitched to the RS150's HDMI 2.0 port. There is also a generous set of audio connections, including RCA and XLR on the analog side and optical, coaxial, HDMI ARC, and USB on the digital side.
Getting to the heart of the matter — the ability to render music in a rich, lifelike manner — Kneller described what he heard as a "rich, weighty, and layered sound" with clearly delineated imaging and an expansive soundstage. He also found the RS150 to be forgiving on iconic but flawed recordings such as
"Can't We Be Friends" from the Ella Fitzgerald and Louis Armstrong Collection streamed on Qobuz in 16-bit/44.1kHz FLAC. The RS150 managed to moderate a strident trumpet and piano and the sibilants on Armstrong's vocals without dulling voices. HiFi Rose's RS150 doesn't come cheap but it provides a wealth of features, operational flexibility and, most important, sound that doesn't disappoint.
AT A GLANCE

Plus

Outstanding performance and build quality
Stunning 14.9-inch high-def color touchscreen
Highly customizable operation
HDMI ports for connecting to a TV

Minus

Lacks headphone output, phono input, and room EQ
Full Review Here (posted 3/9/22)