Gear Aplenty could well be the theme of autumn 2021, which has produced a scary good lineup of Top Pick-worthy products as we approach the witching hour. From one of the best TVs you can buy to soundbar options for three budgets to a brilliant reimagining of a '60s classic, we've got you covered.
Vizio V21d-J8 Soundbar: $116
I know what you're thinking… What kind of upgrade can you possibly expect from a soundbar that costs a hundred bucks? Actually, you can expect a sizable bump in sound quality compared with the abysmal speaker systems built into most of today's TVs, where audio is an afterthought.
Though Vizio is mostly known for its TVs, the company has built a reputation in recent years for producing low-priced soundbars that sound shockingly good. You can add the V21d-J8 to the list. The soundbar is a simple 2.1-channel design that mates a pair of forward-facing full-range speakers with a couple of small woofers in a svelte, fabric-wrapped cabinet just over 2 inches tall and three feet wide. The system boasts DTS Virtual: X surround-sound processing and supports the convenience of Bluetooth streaming in addition to offering analog and (optical) digital inputs, including an ARC-enabled HDMI port.
Leslie Shapiro wasted no time getting right to the point in her review: "For the price, it can't be beat." And this from a professional recording engineer who was impressed with the J8's ability to muster "strikingly clear sound" with nice upper-bass impact on music and movies, including the low-budget sci-fi outing Breach, starring the ever-lovable Bruce Willis. For music, she played Lovd Ones x Benjah's "Warrior Poet," featuring her friend Sailor Jane on vocals. "Jane's sultry vocals were warm and natural, again with excellent high-end detail." If you're looking for a simple, low-cost soundbar, maybe for a bedroom or other secondary space, Vizio's J8 just might be the best soundbar $100 can buy. (Editor's note: Between the time the review was conducted and when it was posted on September 1, Vizio increased the price from $100 to $116.)
AT A GLANCE

Plus

Great value
Impressive dialogue clarity
Voice Assistant input

Minus

Lacks bass impact
Complicated LED display
Narrow soundstage
Full Review Here (posted 9/1/21)
Samsung QN65QN90A NEO QLED LCD Ultra HDTV: $2,600
Samsung's flagship "Neo QLED" QN90A TV series cost more than equivalent LCD models in the company's 2020 lineup but offer a serious bump in performance that elevates the LCD category to new heights. Upgrades include a marked improvement in one of LCD's longstanding bugaboos — off-center viewing — and a full-array local dimming backlight that uses Mini-LEDs to substantially expand the number of dimming zones to upwards of 800.
The TV's central processor also draws on Artificial Intelligence (AI) to enhance images frame-by-frame in all picture modes, except for the purist Filmmaker Mode. And while the QN90A doesn't decode Dolby Vision high dynamic range (HDR) content, it supports the HDR10, HDR10+, and HLG formats and applies an effective dynamic tone mapping algorithm to the HDR10's static metadata to improve picture performance beyond what you would get with straight-up HDR10 processing.
All these upgrades translate into a picture Tom Norton called "impressive" at its worst and "spectacular" at its best. While absolute blacks aren't as quite as deep as what you'd see on a topnotch OLED set, Norton hailed HDR punch and contrast as "unequalled in my experience" and consistent across a number of Ultra HD discs, including the torture test otherwise known as Harry Potter and the Deathly Hallows Part 2. "From the deep, dark nighttime scenes of Hogwarts' spires surrounded by Dementors, to Voldemort and his minions perched on a rise as they prepare to attack, each shot revealed solid blacks and excellent shadow detail." The QN90A also excelled at rendering the exquisite detail, brilliant colors, and natural skin tones that help define the historical dramedy Victoria and Abdul on Blu-ray. As Norton put it, the banquet scene was "complete eye-candy." No doubt, this is one of the best LCD TVs you can buy today. (Editor's note: Good news! As of this writing, the QN90A price has been reduced to $2,100 for a limited time on samsung.com.)
AT A GLANCE

Plus

Standard-setting HDR performance
Wide viewing angle for LCD
Deep blacks and strong shadow detail

Minus

Lacks Dolby Vision
Occasional blooming artifacts
Full Review Here (posted 9/8/21)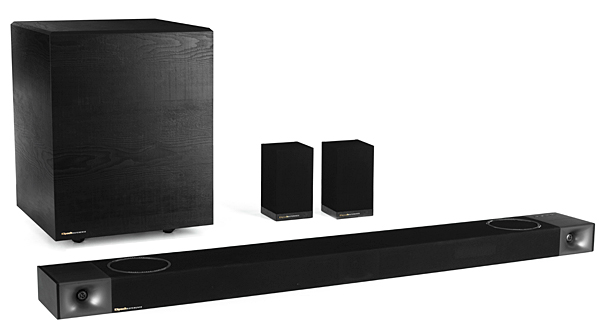 Klipsch Cinema 1200 Soundbar System: $1,899
Klipsch to the rescue for anyone who wants to get in on a little 5.1.4 Dolby Atmos action without the complexity of a receiver-based theater setup with seven or more speakers. The Cinema 1200 is a 5.1.4 system featuring wood construction and comprising a 54-inch-wide Dolby Atmos-enabled soundbar with discrete left/center/right driver complements and an up-firing driver at either end, a pair of Atmos-enabled wireless surround speakers, and a wireless subwoofer rated down to 22 Hz that mates a 12-inch driver with 500 watts of system power in a beefy 16 x 20 x 16-inch (W x H x D) cabinet. This system rocks in more ways than one.
The soundbar supports Bluetooth streaming and includes a generous helping of connections: Analog and (optical) digital inputs plus four HDMI ports, one of which supports eARC (enhanced Audio Return Channel) and allows pass-through of video signals up to 8K in resolution. Setup is dead simple: Run a cable between your TV's HDMI ARC (or eARC) connection, which lets you use your TV remote to adjust volume, and sit back while the wireless subwoofer and surround speakers automatically connect with the soundbar. The system provides six sound modes mdash; Movie, Music, Game, Party, Standard, and Direct (for passing discrete stereo or multichannel audio through unprocessed).
Reviewer Rob Sabin described the system's music chops as very good to excellent but was really taken with its ability to reproduce movie soundtracks. "Movies proved to be the Cinema 1200's real sweet spot, and Atmos soundtracks in Movie mode were a total treat due to excellent ceiling placement of the four virtual height channels (confirmed with Atmos test tones) and the backbone provided by the subwoofer on action flicks." As one of the least expensive high-end soundbar systems available, the Klipsch Cinema 1200 over-delivers on value and sound quality. (Editor's note: Between the time the review was conducted and when it was posted on September 22, Klipsch increased the system price from $1,699 to $1,899.)
AT A GLANCE

Plus

All-in-one 5.1.4 Atmos system
Stupendous dynamics
Great sound quality with music and movies
Class-leading 12-inch subwoofer

Minus

Ineffective surround processing of stereo music
No mic on remote or bar for Alexa and Google Assistant
No DTS decoding
Full Review Here (posted 9/22/21)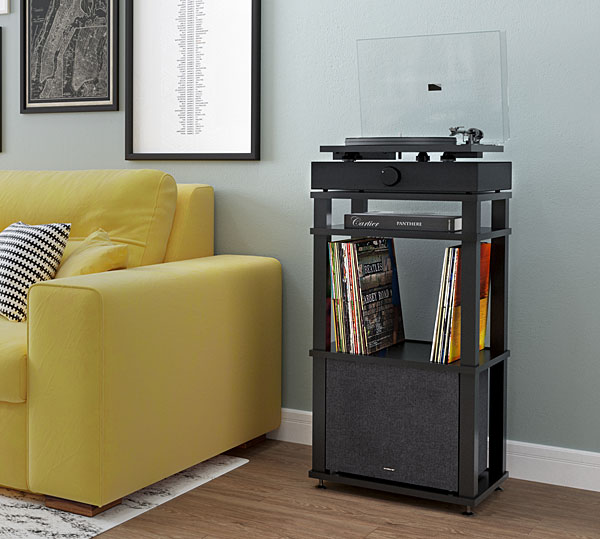 Andover Audio Spin System Integrated Audio System: $1,146 (as tested)
Massachussetts-based Andover Audio has expanded its clever turntable speaker concept with a complete, vinyl-based stereo system that conserves space and is super easy to set up and use. The modular Spin System mates the SpinBase all-in-one stereo speaker with a SpinDeck turntable, and SpinSub powered subwoofer in a SpinStand audio rack with a spare shelf and room for several dozen records. There's even a hanger for your headphones. The turntable is setup at the factory and fitted with an excellent Ortofon cartridge so you won't have to worry about fine tweaking.
Setup involves assembling the SpinStand rack, installing a belt in the turntable (which has a built-in phono preamp), running RCA cables from the table to the SpinBase, connecting the subwoofer, and making a few quick adjustments to set the sub's level and crossover point. The turntable sits on top of the SpinBase speaker, which doubles as a vibration-resistant platform. We know it sounds crazy, but it works thanks to a remarkable technology called IsoGroove Feedback Elimination. Andover also puts the technology to work in the SpinSub to prevent the transfer of bass energy into the stand.
Unlike an old-school hi-fi rig with a stereo receiver at its core, all you have to do to get the party started here is drop a record on the platter, cue it up, and adjust the big volume knob on the SpinBase speaker. There is no remote control — the RCA inputs are always on, waiting for your next musical excursion — and the system supports Bluetooth streaming. Reviewer and vinyl expert Michael Trei gave the Spin System a four-star rating for performance and praised it for its open, natural sound and rich bass. For those who prefer a fully automatic turntable, Andover now offers the SpinDeck MAX, which costs $250 more than the manually operated SpinDeck.
AT A GLANCE

Plus

Exceptionally simple to set up and use
Great sound

Minus

No remote control
Full Review Here (posted 10/6/21)
THX Onyx DAC/Headphone Amplifier: $199
THX is famous for its longstanding audio and video certification programs but never got into the business of developing and selling THX-branded products. In April, the company founded by George Lucas introduced an unlikely first product: THX Onyx, a digital-to-analog converter (DAC)/headphone amplifier designed to supercharge your headphone listening experience
Housed in a slim metal case, the device is compatible with most headphones and built to handle high-resolution DSD and PCM files (the latter up to 32-bit/384kHz) via an onboard ESS ES9281PRO chip. The Onyx also boasts an MQA renderer to "unfold" streamed or downloaded MQA-encoded music but its crown jewel is the patented 180-milliwatt Achromatic Audio Amplifier, that uses feed-back/forward error correction to keep noise and distortion to a minimum.
Reviewer Al Griffin put Onyx to the test, listening to a variety of hi-res music on Tidal over Sennheiser headphones and JVC earbuds. He was captivated by the "impressive drive, detail, and clear separation of instruments and vocals" he heard on Wilco's "Kamera" and the Crosby, Stills & Nash classic "Guinnevere," which came across "precisely layered with acoustic and electric guitars maintaining a distinct presence in the mix." Ultimately, the THX Onyx's strength is in its ability to deliver a "layered spatial presentation — something that bodes well for the portable gaming and movie-viewing THX touts for its DAC." (Editor's note: For a limited time, THX is offering a subscription to Qobuz Studio Premier free for three months.)
AT A GLANCE

Plus

Clean, clear, powerful sound
Extensive format support
Compatible with a wide range of headphones

Minus

Requires extra-cost adapter for iOS devices
Full Review Here (posted 10/13/21)