Picture
Sound
Extras
Based on incidents from writer-director Kenneth Branagh's own childhood in Belfast, Northern Ireland, and set against the outset of the Troubles in 1969, this bloody masterpiece—a joy from beginning to end—is a moving comic-tragedy on both personal and historical levels, one that's filled with warm sentiment, great Irish humor, and a touching sense of loss. Belfast won the Oscar for best original screenplay and was nominated for six others. It stands up very well in comparison to John Ford's How Green Was My Valley, a similar child's tale of a happy, close community and family undermined by social events and changes that force the giving up of old ways and a life beloved by all. And like Ford's best films, this instant classic is played by a marvelous ensemble of actors.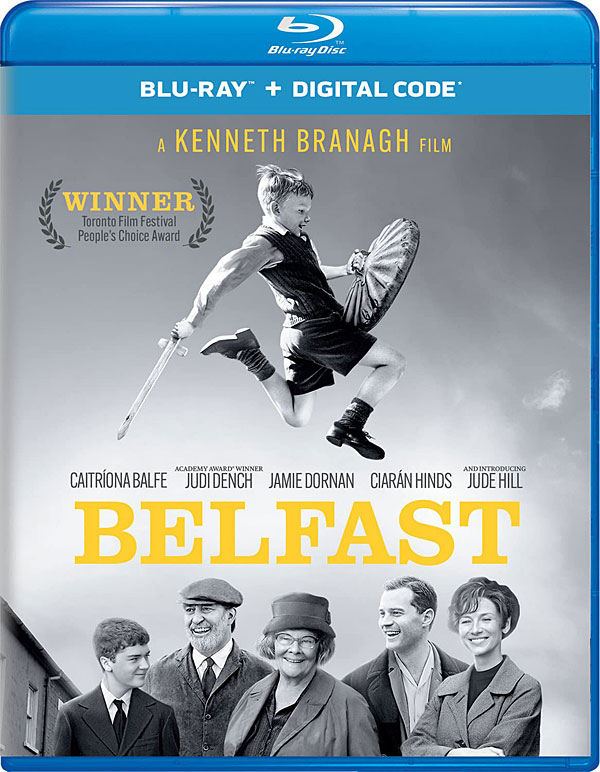 Following a brief, richly colored montage of the modern-day city, Belfast opens with a series of brilliant black-and-white tracking shots that take you through a simple, magically idyllic, and safe neighborhood of joking friends, housewives, and kids playing out their warrior fantasies in the streets. The sequence comes to a dizzying finish, circling the head of nine-year-old Buddy as he catches sight of outside marauders coming to riot and rout out Catholics who previously lived peacefully in the largely Protestant district. The majority of compositions have great depth of field—often simultaneously showing three figures in different planes, visible and conversing from separate rooms or through windows or doorways—and all are extremely sharp and detailed. Rough brickwork, debris, and pavements can almost be felt. Contrast is excellent with deep blacks, bright highlights, and a wide range of beautiful and textural grays between.
Van Morrison's classic song score comes at you from all sides, with vocals in the center and well-separated instruments in the other channels. Surrounds channels in the DTS-HD Master Audio 7.1 soundtrack are also used for atmospheric effects such as street chat or car explosions, rumbling tank engines, and passing trains, as well as accurate sound-pans of the ever-present helicopters overhead. Dialogue is all full and clear despite the heavy accents.
A highlight of Branagh's pleasant but not too informative commentary is his discussion of Haris Zambarloukos' cinematography. Four deleted scenes, including an ill-conceived alternate ending, each have optional director's comments. One featurette has Branagh, cast, and crew talking about characters and sets, and another has the actors reminiscing about their own childhoods. As one of them puts it, "The Irish were born for leaving, otherwise the rest of the world would have no pubs."
Blu-ray
Studio: Universal, 2021
Aspect Ratio: 1.85:1
Audio: DTS-HD Master Audio 7.1
Length: 97 mins.
Director: Kenneth Branagh
Starring: Judi Dench, Ciarán Hinds, Caitriona Balfe, Jamie Dornan, Jude Hill, Lara McDonnell