Home theater builders listen up: the Raleigh, NC-based consumer electronics specialty retailer Audio Advice has created an online tool for calculating ideal projector placement and is making it available for free at
audioadvice.com
.
The Projector Throw Distance Calculator aims to save time by providing minimum, maximum, and ideal throw distances by calculating the projector position that will provide optimal image brightness for different screen sizes. The calculator covers a number of variables including screen size, screen gain, and projector model (Epson, JVC, or Sony) so users can see how one or more changes impact theater design; a "generic" option is provided if the projector model is unknown.
Once all of the variables are entered into the system, it calculates "Brightness in Nits" to indicate whether the proposed setup is compatible with high dynamic range (HDR) content. Green means you're good to go but yellow means the setup will deliver images "too dark for good HDR viewing."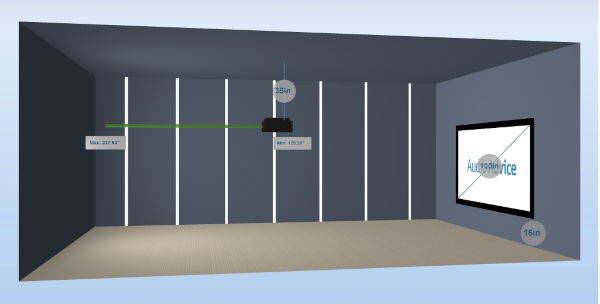 Projector-specific horizontal and vertical offsets are also provided for installations where the projector needs to be placed off-center or higher than normal. Audio Advice has also collected data on the noise level of specific projectors to help system builders find the quietest mounting location.
"Consumers and installers know that brands use different standards for stating their lumens and other specifications but most don't have the resources to test so many projectors on their own," explained Scott Newnam, CEO of Audio Advice. "For instance, we've calculated the actual brightness of the projectors and measured the brightness drop as projectors move farther away from the screen. What many people don't know is that each projector has a different brightness loss as the projector moves farther away from the screen. By integrating this data into the tool and providing fan noise levels, consumers and installers can now rapidly find the ideal projector and projector location for their project."
Audio Advice says using the projector-specific measurements incorporated in the calculator will achieve results that are more accurate than what would be obtained using manufacturer specs. The retailer has also integrated the projector data into its free, patent-pending Home Theater Designer tool, which enables users to model an "acoustically correct" home theater system that takes speakers, seating, and riser locations into account along with projector type and position.