Apple's AirPods Pro are some of the best-selling headphones of all time. Now the company has unveiled its AirPods Pro 2nd generation ($249) featuring a new H2 chip, new driver, new amplifier, improved noise cancellation, personalized spatial audio, and various ergonomic-plus-usability enhancements. Apple clearly seeks to maintain its dominance in the headphones category with a comprehensive update to its most popular model.
I traveled to Apple Park to see the unveiling of the new iPhone 14 and Apple Watch models and new AirPods Pro. This afforded an opportunity for hands-on time with the earbuds, including a demonstration of their effectiveness at suppressing the sound of around 700 excited journalists and social media influencers, all gathered around the new gear.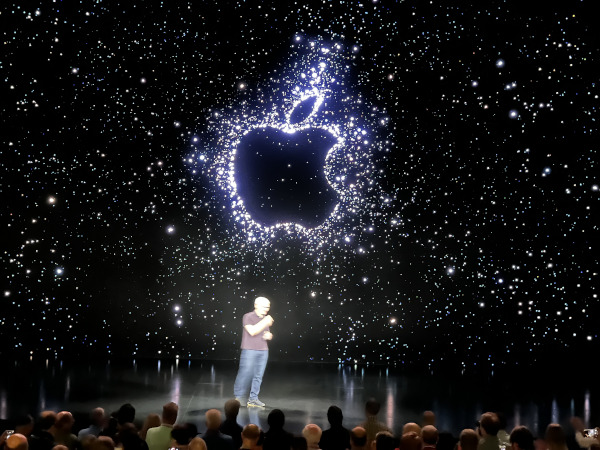 Apple boldly claims the new AirPods to be the best sounding earbuds in the world. While I'm sure that'll be up for debate, the underlying message is there's an improvement in sound quality that is the result of hardware and software upgrades. Even the changeable eartips play a role in optimizing the sound quality, and Apple now includes an extra-small size.
Battery life is rated at 6 hours on a full charge with noise cancelling active, or 7 hours with it turned off. The charging case allows for multiple recharges for 30 hours of noise cancelling-enabled playback before you need to find a USB charger — or you can now use an Apple Watch charger to wirelessly charge the case. The case has a couple other tricks up its sleeve, including a built-in speaker and flashing LED light to help you find it, even in a dark room. And it is now possible to attach a lanyard, to further help prevent loss.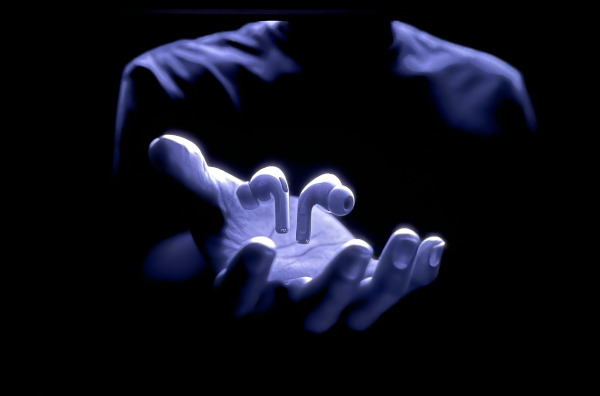 One of the most exciting new features of the AirPods Pro is custom spatial audio. The concept is not new: Sony and Creative Labs already use head and ear scans for personalized spatial sound but, of course, Apple has streamlined the process. Thanks to the 3D scanning capability of the iPhone, it can capture the necessary biometrics to calculate an ideal profile for your ears. Without the custom profile you can't achieve the same level of immersion — it's not as three dimensional. However, hands-on impressions of custom spatial audio will have to wait for our full AirPods Pro review.
My brief hands-on did manage to encompass spatial audio without the customization. What's impressive is how effectively the new AirPods attenuated the clamor in the room. Plus, the new Apple Watch has a feature that shows exactly how much noise cancellation is applied, so I could see that I was getting a 30-35dB reduction in noise. The difference was striking and noise cancellation now covers more than just bass frequencies and buzzing or droning sounds like airplane engines — it's also highly effective with speech, so you really do need the transparency mode (easily activated through the touch-sensitive controls) to hear what someone is saying.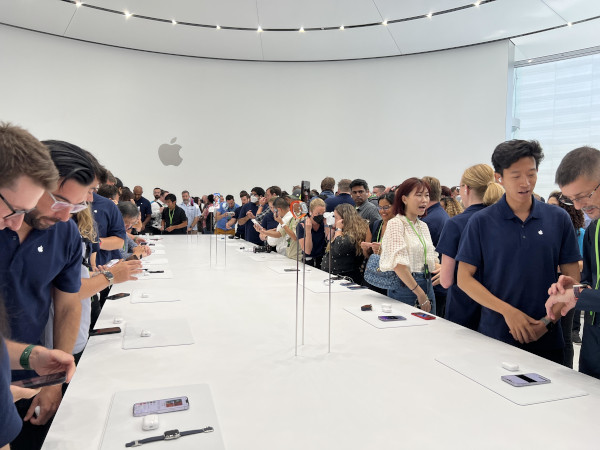 Speaking of touch control, with the capacitive touch sensor on the new AirPods Pro you can swipe the earbud's signature stem to control volume, with a haptic beep letting you know you've adjusted it by an increment. I tried it and it is, indeed, the most intuitive way to adjust volume. So, while touch control might be "better late than never" when it comes to the AirPods Pro, its implementation is seamless in the manner you expect from Apple.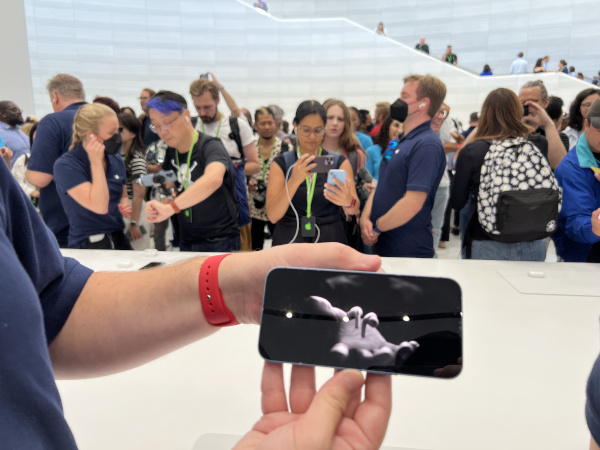 Transparency mode on the new AirPods Pro also gets a new feature that, if it as effective as Apple claims, could be a game-changer. The Adaptive Transparency Mode passes sound but uses volume limiting to reduce excessively loud sounds that could be harmful. Applications include hearing protection in the workplace that lets you hear sounds that can alert you to danger and even hear speech over machinery. Or the new mode could be used to protect your hearing at a loud concert without changing the character of the music, as would be the case with standard earplugs.
The main question is how Apple's new true wireless earbuds compare with their predecessors and the ever-stiffer competition. Watch for our full review.