Picture
Sound
Extras
On the way to cooking up the all-time great spaghetti western, Sergio Leone began here with Rawhide star Clint Eastwood, eager to break out of his "white hat" TV persona and take his craft and career to the next level. Together they birthed an anti-hero who would become known as The Man with No Name, indelible and ultimately at the center of For a Few Dollars More (also new to 4K) and The Good, the Bad and the Ugly (released last year). While neither are direct sequels, rather tonally similar vehicles for their soft-spoken, steely-eyed creation, this unofficial "trilogy" is defined by its originality, brutality, and a protagonist who is ruthless yet strangely fallible. Fistful has an esteemed pedigree, essentially a remake of Akira Kurosawa's Yojimbo, the story about a town controlled by two rival gangs and the stranger who gets in the middle, stirring up trouble to achieve his own ends. Saddle up for a wild ride and a crucial chapter in genre history.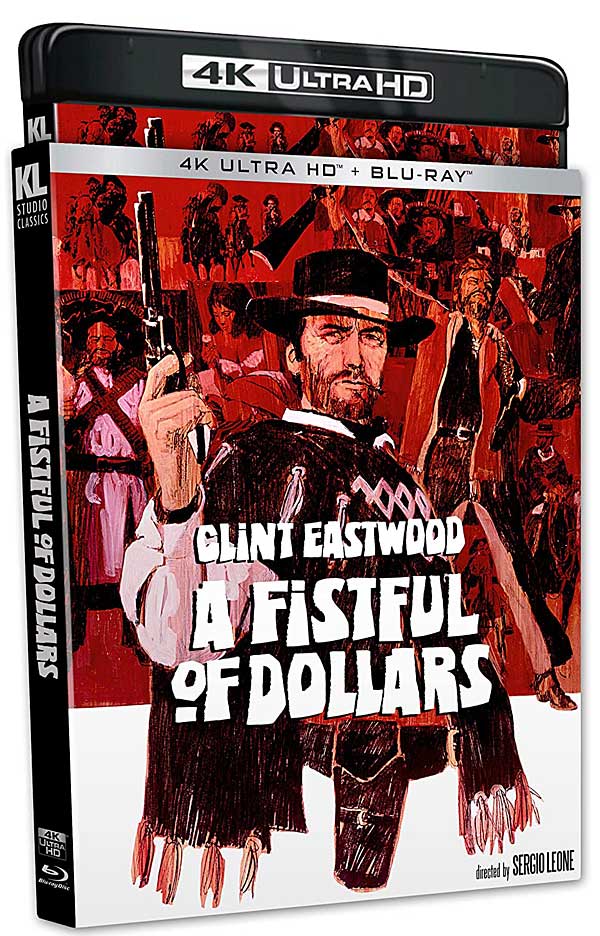 Working with the restoration provided by Italy's L'Immagine Ritrovata, Kino Lorber Studio Classics brought dozens of hours of new shot-by-shot color grading to the 2.35:1 picture. Fistful was originally a low-budget '60s production set in a bleak locale, so the results are not particularly pretty or especially colorful, with substantial grain that can lead to occasional flicker. Blacks are crushed, but I've seen worse. Where the image excels is in the increased detail, right down to the fibers of Clint's poncho. I must mention that the movie is presented in standard dynamic range, likely due to the limited quality of the original film elements that yielded this 4K master.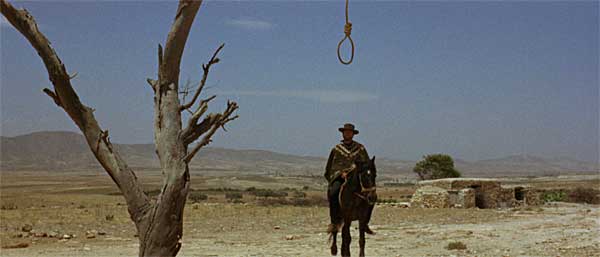 The movie's soundtrack has been available in rechanneled 5.1 before, and it's a fine option with its wider sound field, but it's not showoff material by any means. More interesting is the disc's default track: a new, correctly synced DTS-HD Master Audio 2.0 mono soundtrack. This synchronization is particularly important as spaghetti westerns commonly used the "Tower of Babel" approach where each member of the international cast spoke in his/her native language with English dubbed in during post-production. The dialogue matches the actors' delivery as the best it can, and there is a clean precision overall, particularly in the whistling. Likewise, Ennio Morricone's score displays outstanding fidelity.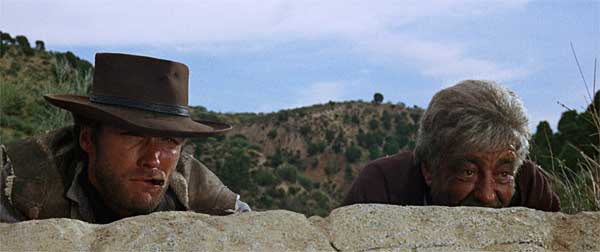 The 4K disc in this package offers two expert audio commentaries, one old and one new, while the HD Blu-ray disc adds a vast archive of interviews, featurettes, and other curiosities from Fistful's storied past.
4K Ultra HD Blu-ray
Studio: KL Studio Classics, 1964
Aspect Ratio: 2.35:1
HDR Format: N/A
Audio format: DTS-HD Master Audio 2.0 mono
Length: 100 mins.
Director: Sergio Leone
Starring: Clint Eastwood, Gian Maria Volontè, Marianne Koch, Wolfgang Lukschy, Sieghardt Rupp, Joseph Egger