Picture
Sound
Extras
Long before Lin-Manuel Miranda set the American Revolution to music, playwright Peter Stone and composer/lyricist Sherman Edwards gave us an entertaining history lesson of their own, set in 1776. An unpopular John Adams, poetic Thomas Jefferson, and impish Ben Franklin are focused on a future free of British oppression, despite the danger of such a declaration, but when the decision is made that such a vote must be unanimous, the challenge becomes much more difficult. While a far cry from the hip-hop beats of Hamilton, the songs here do a remarkable job of conveying facts and weaving a compelling story worth telling again and again.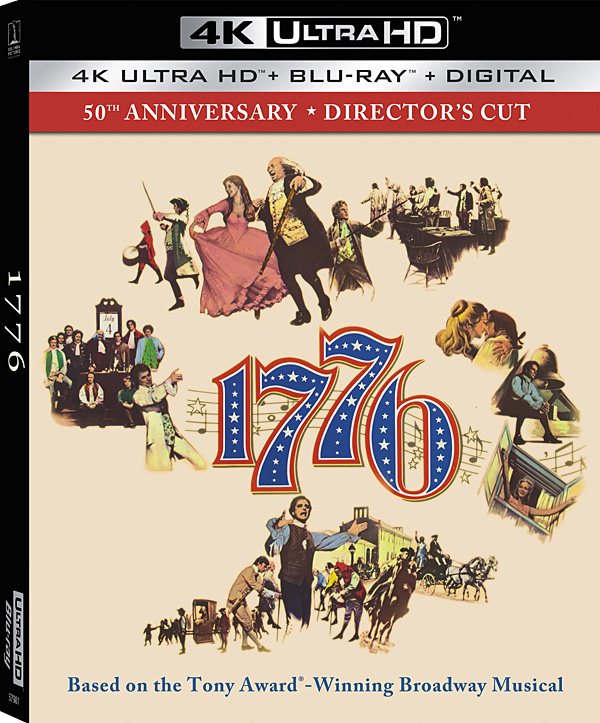 The film was treated by some as a redheaded stepchild (reportedly Richard Nixon didn't like its themes, which prompted producer Jack L. Warner to order some painful cuts), and its physical elements had fallen into disrepair over the years. Significant restoration was required to create the four different versions of the movie offered in this three-disc set. The long-MIA 1992 laserdisc version, cobbled together with limited resources at the time, is presented in standard definition with Dolby Digital stereo audio and, at almost three hours, is the longest. The original theatrical cut, the shortest version, is presented in high definition with a DTS-HD Master Audio stereo soundtrack. There's also the "Extended Cut," a bit of a kitchen sink with extra verses of songs and an additional gag thrown in here and there — not particularly seamless but not terribly jarring either.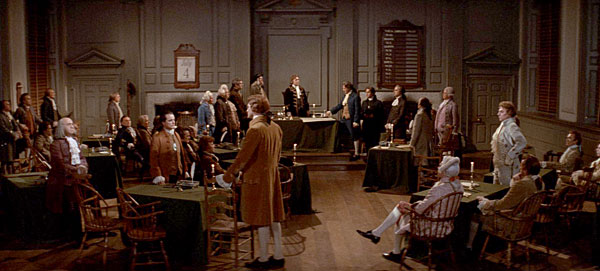 The star of the show, however, is Peter Hunt's director's cut, presented in 4K with upgraded Dolby Atmos sound and two archival commentary tracks. Faces and costumes, which favor finely patterned prints, are the main beneficiaries of a transfer also notable for its bright colors. Though some noise and video compression are evident, there is also a slight but undeniable boost in sharpness, notably in the brick facade of Independence Hall, when compared with the HD Blu-ray disc (which appears to be the 2015 release with new artwork and is likely born of the same 4K master).
A male chorus belting out dramatic and sometimes funny tunes makes for a powerful Atmos track that reveals a faint echo applied to certain singing voices and preserves the reverberance of the main congress chamber where most of the action takes place. Whether indoors or outdoors, the soundstage is enjoyably full without ever resorting to overt gimmickry.
Most of the supplements are on the HD Blu-ray feature disc and include a treasure trove of previously released deleted/alternate scenes and screen tests.
Ultra HD 4K Blu-ray
Studio: Sony, 1972
Aspect Ratio: 2.35:1
HDR Format: Dolby Vision, HDR10
Audio Format: Dolby Atmos with TrueHD 7.1 core
Length: 165/168/142/178 mins.
Director: Peter H. Hunt
Starring: William Daniels, Howard Da Silva, Ken Howard, Donald Madden, Blythe Danner, John Cullum