Been eyeing up your tired kitchen for a while, but short on design inspiration? Transforming your kitchen to create a modern space at the heart of your home is one of the most rewarding home improvement projects. It also improves your lifestyle and adds value to your home – up to £13,000! And what better way to find some inspiration than by putting some of that screen time to use? Platforms such as Instagram, TikTok and Pinterest are full of great ideas, tips and hacks on how to improve your home, and especially, the kitchen. A fundamental space for the family. 
So what are the top trending kitchen design ideas on social media for 2022? 
5 top social media kitchen design ideas
1. Japandi decor
Combining Japanese and Scandinavian design styles, Japandi decor is all about functionality and simplicity; think muted tones, clean lines and natural elements. If you're after a calm and simple kitchen design, start by decluttering your kitchen and then choose colours and materials – soothing pale green, blue or grey alongside wood or bamboo will bring balance to your Japandi kitchen design. Include natural elements such as plants and if those clean lines prove difficult to maintain you can hide the clutter with rattan baskets!   
2. Cottagecore decor
If you've always wanted to live in a cottage then a cottagecore kitchen design, with its focus on cosy countryside living and vintage style, might be for you. Cottagecore harks back to a time when kitchen creativity was the norm – baking your own bread and pickling the produce of your veg patch – so it features natural wood finishes, rustic cottage cabinets, farmhouse kitchen tables and pastel tones next to floral designs like your grandma's vintage tea set. 
However, if you want a nod to cottagecore without the focus on feminine and vintage design, you can create a modern interpretation with cottage features. Choose white as a base and add some colour with features like a cottage plate rack, a farmhouse dresser to display your crockery alongside traditional ceramics like metal milk jugs for plants and herbs.
3. Dark coloured kitchens
One of the hottest kitchen design trends in 2022 is a contemporary dark kitchen which brings some luxury to a busy space. Green has been a popular colour choice for a while and now the shade is getting darker and being joined by blues, charcoal and even black. Consider how much natural light you have and what style of artificial light you need when deciding how dark to go. Your cabinets, worktop and flooring are all perfect opportunities to balance the colour palette with lighter tones and while brass handles and taps or a marble worktop add that finishing touch of glamour.  
Looking for a kitchen specialist? Find trusted, professional tradespeople by posting your job on Rated People. 
FIND A KITCHEN SPECIALIST
4. Grandmillennial decor
Grandmillennial decor is a popular style right now and it came from millennials (those in their 20s and 30s) and nostalgic memories of design elements they might have found in their grandma's houses. Design features include elaborate chandeliers, mixed patterns, collections of china or silverware, pleated lampshades, dark wood furniture and vintage brass. If you've always appreciated traditional design elements then this kitchen design style is for you – it's time to dust off that vintage tea set lurking at the back of your cupboard and give it pride of place!
5. Create a kitchen pantry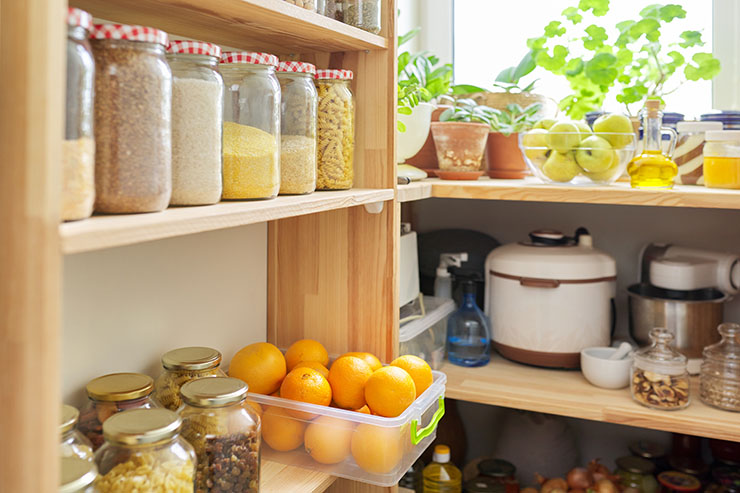 Kitchen pantries are the kitchen accessory of choice this year, whether you have space for a hidden walk in pantry or need to think cleverly about how to incorporate one. You could upgrade a disused wall by adding in a couple of shelves to store essentials like pasta, rice and herbs or convert an existing kitchen cabinet. However you create your pantry they are a fantastic feature to make cooking that bit easier and more satisfying.